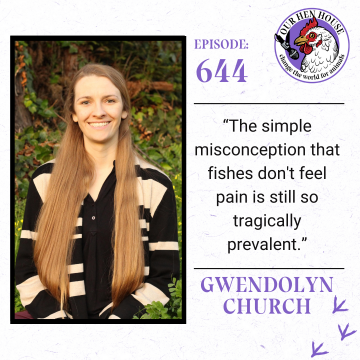 The remarkable Gwendolyn Church joins the podcast this week for an awe-inspiring conversation about Friends of Philip Fish Sanctuary, the aquatic animal sanctuary she founded, based in Reno, NV. Gwendolyn tells the tale of Philip, the betta fish that changed the trajectory of her life and inspired the sanctuary. This passionate animal activist also discusses the misconceptions around fish sentience and explains why humans must reframe their thinking when it comes to caring for aquatic animals. Shining a light on the horrors that farmed and wild-caught fishes destined for the pet trade face, she tells us why she is so committed to rescuing all types of fish. We also discuss how Friends of Philip is navigating, and funding, the process of becoming a non-profit organization dedicated to rescuing, and caring for, aquatic animals.
*We are thrilled to expand the accessibility of our podcast by offering written transcripts of the interviews! Click here to read Jasmin's interview with Gwendolyn Church.*
Gwendolyn Church runs Friends of Philip Fish Sanctuary, an aquatic animal sanctuary, and rescue in Reno, Nevada. Friends of Philip aims to expand the rescue conversation to include fishes and other aquatic animals and foster the connection between humans and aquatic life by sharing their rescued animals' stories and vibrant personalities. The organization provides sanctuary and rescue for animals in need, and advocates for ending the consumption and commodification of fishes and other aquatic species.
"The simple misconception that fishes don't feel pain is still so tragically prevalent." – Gwendolyn Church
Highlights for Episode 644: 
Why betta fish are particularly vulnerable in pet stores

Why the plural of "fish" is "fishes"

How the sanctuary is growing, how they're working to establish and fund themselves as a nonprofit

What Gwendolyn is looking for in people looking to adopt a fish from her sanctuary

Where the fishes who arrive at the sanctuary come from, and why pet stores are often open to people rescuing sick fishes

How rescuing aquatic animals differs from rescuing terrestrial animals

Why it's vital to understand the nitrogen cycle and the importance of water quality when caring for fishes

The different personalities that Gwendolyn sees in her aquatic charges and how she builds a rewarding relationship with them

Common mistakes that people make when caring for pet fishes and Gwendolyn's advice for new fish rescuers

Why pet stores aren't a great source of information for prospective fish caregivers

Whether there is a growing sense of awareness of fishes as sentient animals who need to be understood, supported, and most importantly, not consumed as food
Resources:
Connect with Gwendolyn Church:
Connect with Our Hen House:
_____________________________________________
Thank you for listening to the Our Hen House podcast! If you enjoy our podcasts, believe in our mission to effectively mainstream the movement to end the exploitation of animals, find community and solace in our shows and resources, and would like to show your support for vegan indie media, please make a donation today.
You can listen to our podcast directly on our website, or subscribe on Apple Podcasts or your favorite podcatcher! Also, if you like what you hear, please rate it and leave us a comment on Apple Podcasts!
Don't forget to check out Our Hen House's other podcasts: The Animal Law Podcast, The Teaching Jasmin How to Cook Vegan Podcast, and the Antiracism in Animal Advocacy Audio Series.
The Our Hen House theme song is written and performed by Michael Harren.
__________________________
This episode is brought to you in part by Miyoko's Creamery. From their humble beginnings with 4 employees in Miyoko's home kitchen, to a 30,000 sq ft. state-of-the-art facility in Sonoma, Miyoko's Creamery is leading the way in transforming the future of the creamery. Miyoko's Creamery is changing perceptions of vegan food, to inspire people from all walks of life to enjoy a phenomenally vegan lifestyle and right now our listeners can get 15% off by visiting their website and checking out with code HENHOUSE15.
__________________________
This episode is brought to you in part through the generosity of A Well-Fed World. A Well-Fed World provides the means for change by empowering individuals, social justice organizations, and political decision makers to embrace the benefits of plant-based foods and farming. Learn more at awfw.org.