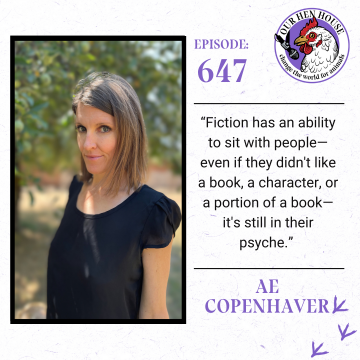 Author, science communicator, and climate interpreter A.E. Copenhaver joins the podcast this week for a conversation about her recent debut novel, My Days of Dark Green Euphoria. A.E.'s book follows the flawed, eco-anxious Cara as she crosses paths with Millie, her boyfriend's mom who represents everything Cara is against. In our conversation, A.E. tells us why she decided to make Cara far from perfect, and how this helps make the book's theme of animal and environmental advocacy more accessible. We also discuss other themes in the book, including why A.E. highlights self care as a form of pleasure to help counter the violence activists often come across in their lines of work. Plus, the author shares how winning the Siskiyou Prize for New Environmental Literature helped get her manuscript out to as wide an audience as possible and why that was important to her.
*We are thrilled to expand the accessibility of our podcast by offering written transcripts of the interviews! Click here to read Mariann's interview with A.E. Copenhaver.*
A.E. Copenhaver is a writer, editor, science communicator, and climate interpreter. She's worked in the environmental and nonprofit sectors for nearly a decade. She has ghostwritten book chapters about cities plagued by factory farming, air pollution, and automobile traffic, and she has written about migrating white sharks, threatened sea otters, and depleted Pacific bluefin tuna. She holds degrees in English and environmental studies from Santa Clara University, and in 2009, she earned her master of art degree in culture and modernity from the University of East Anglia in England. Born in Bellevue, Washington, A.E. Copenhaver has lived in Carmel, California, for most of her life. Her debut novel, My Days of Dark Green Euphoria is published by Ashland Creek Press.
"Fiction has an ability to sit with people—even if they didn't like a book, a character, or a portion of a book—it's still in their psyche." – A.E. Copenhaver
Highlights for Episode 647: 
Why

fiction was the best vehicle to share her perspective and how it allows the sense of psychological exploration to come to the fore 

When

A.E.

started writing 

My Days of Dark Green Euphoria

, why she decided to submit her manuscript to Ashland Creek Press, and how they supported her as a first-time novelist  

Why she felt it was important not to depict activism as a pit of self-deprivation and how she demonstrated that in her fiction

How the character of Millie demonstrates the idea of thoughtless indulgence and why

A.E.

brought her into the novel 

T

he relevance of personal action in the face of global crises and why Cara struggles so much against allowing herself any pleasures

How Cara's thoughts and fears about climate change reflect

A.E.

's own personal predictions for the world's future 

A.E.

's work as a climate interpreter who interprets and shares complicated scientific ideas with non-experts

Why going vegan was one of the greatest joys of

A.E.

's life
Resources:
Connect with A.E. Copenhaver:
Connect with Our Hen House:
_____________________________________________
Thank you for listening to the Our Hen House podcast! If you enjoy our podcasts, believe in our mission to effectively mainstream the movement to end the exploitation of animals, find community and solace in our shows and resources, and would like to show your support for vegan indie media, please make a donation today.
You can listen to our podcast directly on our website, or subscribe on Apple Podcasts or your favorite podcatcher! Also, if you like what you hear, please rate it and leave us a comment on Apple Podcasts!
Don't forget to check out Our Hen House's other podcasts: The Animal Law Podcast, The Teaching Jasmin How to Cook Vegan Podcast, and the Antiracism in Animal Advocacy Audio Series.
The Our Hen House theme song is written and performed by Michael Harren.
__________________________
This episode is brought to you in part by Abbot's Butcher. Abbot's Butcher is leading the next generation of plant-based meat. The products are crafted in the kitchen—not a lab—and provide bold flavors and a hearty bite by using real food ingredients. Free of soy, gluten, preservatives, and natural/artificial flavors, Abbot's Butcher's plant-based proteins are the cleanest (and most delicious) meat alternatives you can buy. Find Abbot's Butcher "Chorizo," Ground "Beef," or Chopped Chick'n at Target or your nearest retailer.
__________________________
This episode is brought to you in part through the generosity of A Well-Fed World. A Well-Fed World provides the means for change by empowering individuals, social justice organizations, and political decision makers to embrace the benefits of plant-based foods and farming. Learn more at awfw.org.