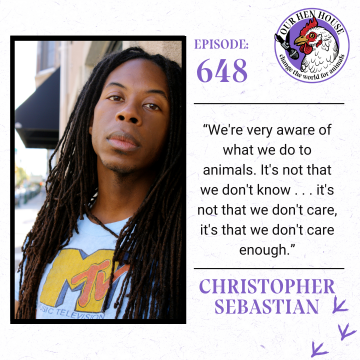 Christopher Sebastian has a lot to say about what animals need from us and how we could all do better in working to change the world, and we are pretty sure you will want to listen.  One of the most thoughtful contemporary commentators on how our relationship with animals has gone so far astray, he joins the podcast this week for a discussion about the intersections of racism and speciesism, and so much more.  We delve into some of the shortcomings of the animal rights "movement," and the crucial work of recognizing the work and leadership of people of the global majority in changing the world for animals. Christopher also shares overlaps between the movements for LBGTQ rights and animal rights, and we reflect on whether queer folk should be more sensitive toward animal protection.
*We are thrilled to expand the accessibility of our podcast by offering written transcripts of the interviews! Click here to read Jasmin's interview with Christopher Sebastian.*
Christopher Sebastian is a technical writer, journalist, and digital media researcher. He is the director of social media for Peace Advocacy Network, a senior fellow at Sentient Media, and former guest lecturer at both Columbia University and Cornell. Using a multidisciplinary approach that includes media theory, political science, sociology, and mass communications, he writes about how our attitudes about racial, sexual, and political identity shape our relationships with other animals.
"We're very aware of what we do to animals. It's not that we don't know . . .  it's not that we don't care—it's that we don't care enough." – Christopher Sebastian
Highlights for Episode 648: 
Resources:
Connect with Christopher Sebastian:
Connect with Our Hen House:
_____________________________________________
Thank you for listening to the Our Hen House podcast! If you enjoy our podcasts, believe in our mission to effectively mainstream the movement to end the exploitation of animals, find community and solace in our shows and resources, and would like to show your support for vegan indie media, please make a donation today.
You can listen to our podcast directly on our website, or subscribe on Apple Podcasts or your favorite podcatcher! Also, if you like what you hear, please rate it and leave us a comment on Apple Podcasts!
Don't forget to check out Our Hen House's other podcasts: The Animal Law Podcast, The Teaching Jasmin How to Cook Vegan Podcast, and the Antiracism in Animal Advocacy Audio Series.
The Our Hen House theme song is written and performed by Michael Harren.
__________________________
This episode is brought to you in part by Abbot's Butcher. Abbot's Butcher is leading the next generation of plant-based meat. The products are crafted in the kitchen—not a lab—and provide bold flavors and a hearty bite by using real food ingredients. Free of soy, gluten, preservatives, and natural/artificial flavors, Abbot's Butcher's plant-based proteins are the cleanest (and most delicious) meat alternatives you can buy. Find Abbot's Butcher "Chorizo," Ground "Beef," or Chopped Chick'n at Target or your nearest retailer.
__________________________
This episode is brought to you in part through the generosity of A Well-Fed World. A Well-Fed World provides the means for change by empowering individuals, social justice organizations, and political decision makers to embrace the benefits of plant-based foods and farming. Learn more at awfw.org.