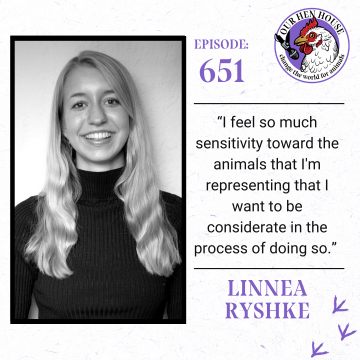 Visual artist and author Linnea Ryshke joins the podcast for a conversation about her recent book, Kindling, a collection of poems and mixed media artwork inspired by the artist's difficult, but instructive, experience working as a laborer at an organic meat farm.
During the conversation, Linnea outlines what she initially hoped to gain by working there and describes her day-to-day life on the "farm," including the difficult, and disagreeable, roles she was asked to take on. The artist also shares why the term "activist art" doesn't describe her creative work most accurately, the role her art serves in the context of animal protection, and the ethics behind creating images of animals. 
*We are thrilled to expand the accessibility of our podcast by offering written transcripts of the interviews! Click here to read Jasmin's interview with Linnea Ryshke.*
Linnea Ryshke creates paintings, drawings, artist books, installations, and poetry that seek to restore the value of nonhuman animals as kindred beings worthy of our adoration, respect, and empathy. She received her B.F.A. in Painting from Pratt Institute and M.F.A. in Visual Art from Washington University in St. Louis. Her work has been exhibited nationally, and she released her first book, Kindling, with Lantern Publishing and Media in the fall of 2021.  She is currently based in St. Louis, Missouri.
"I feel so much sensitivity toward the animals that I'm representing that I want to be considerate in the process of doing so." – Linnea Ryshke
Highlights for Episode 651: 
The psychological tension between empathy and apathy and care and harm in Linnea's poems

Some of the poems from

Kindling

, read by Linnea

The difficulty of looking after your mental health when faced with the reality of how animals are routinely treated in our society

Linnea's feelings on the role of art and art-making in animal advocacy

The importance of  holding grief and discomfort in artwork

Linnea's relationship with her audience and how she hopes to impact her vegan and non-vegan audiences

Why so many people disregard their inner core of compassion in how they treat other creatures

Linnea notes that her art involves an act of ritual, and expands on what that means for her, the animals, and the audience  

How the subject influences Linnea's choice of artistic medium
Connect with Linnea Ryshke:
Connect with Our Hen House:
_____________________________________________
Thank you for listening to the Our Hen House podcast! If you enjoy our podcasts, believe in our mission to effectively mainstream the movement to end the exploitation of animals, find community and solace in our shows and resources, and would like to show your support for vegan indie media, please make a donation today.
You can listen to our podcast directly on our website, or subscribe on Apple Podcasts or your favorite podcatcher! Also, if you like what you hear, please rate it and leave us a comment on Apple Podcasts!
Don't forget to check out Our Hen House's other podcasts: The Animal Law Podcast, The Teaching Jasmin How to Cook Vegan Podcast, and the Antiracism in Animal Advocacy Audio Series.
The Our Hen House theme song is written and performed by Michael Harren.
__________________________
This episode is brought to you in part through the generosity of A Well-Fed World. A Well-Fed World provides the means for change by empowering individuals, social justice organizations, and political decision makers to embrace the benefits of plant-based foods and farming. Learn more at awfw.org.