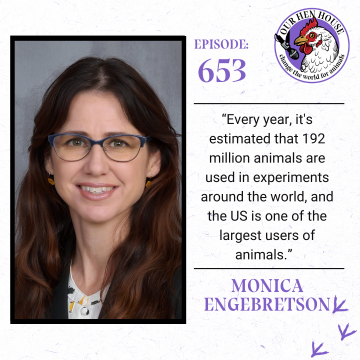 Monica Engebretson is working to end cruel animal testing practices, and this week, she joins the podcast for an in-depth conversation about the state of medical and cosmetic animal testing. The North American Head of Public Affairs for Cruelty Free International, Monica breaks down how the global organization is working to bring an end to animal testing worldwide. Plus, she explains the difference between animal research and animal testing, the most cogent arguments for its ineffectiveness,  and the existing non-animal alternatives. She also gives us an overview of animal research and testing in the United States and discusses various legislative and regulatory initiatives on behalf of animals trapped in labs.
*We are thrilled to expand the accessibility of our podcast by offering written transcripts of the interviews! Click here to read Mariann's interview with Monica Engebretson.*
Monica Engebretson is the North American Head of Public Affairs for Cruelty Free International – an organization working to end animal testing worldwide. Monica has worked in the field of animal protection since 1999 with a range of experience, including fieldwork, undercover investigations, lobbying, and media and public education campaigns. She has also worked on various issues in addition to animals in research, including human-wildlife conflicts, trapping, farmed animals, and captive birds. She has helped write and pass several state laws on many of these issues.  Before working professionally in the animal protection movement, Monica earned a Bachelor of Science in wildlife with a minor in environmental ethics from Humboldt State University in Northern California. Monica's work for Cruelty Free International has focused on initiatives in the US and Canada to end cosmetic testing on animals, working to accelerate the replacement of animals in FDA regulatory testing through the Make Alternatives a Priority (MAP) campaign, advancing humane science funded by the NIH with the Humane and Existing Alternatives in Research and Sciences Testing (HEARTS) Act, and maximizing the number of animals released from laboratories through the Companion Animal Release from Experiments (CARE) Act.
"Every year, it's estimated 192 million animals are used in experiments around the world, and the US is one of the largest users of animals." – Monica Engebretson
Highlights for Episode 653: 
The complexities of testing medical and cosmetic products 

The central criticisms of using animals in experiments

Why animal testing is a historic methodology that has proved to be ineffective

Other non-animal testing methods that are showing signs of being more useful

The major objections to the use of non-animal testing alternatives

A review of the current US state and federal research and testing laws and recent changes to those laws, including what the Animal Welfare Act requires from organizations and businesses

How Cruelty Free International is  helping to ensure that non-animal testing methods are prioritized

Some of the shortcomings in existing laws

The

Humane and Existing Alternatives in Research and Sciences Testing (HEARTS) Act

 

Why Cruelty Free International is working at the federal level to build programs that help animals find homes once their role in research is over and how that initiative serves to remind people of the ongoing issue of animal testing

Changes happening at the State level, particularly in New York, concerning cosmetic testing 

How the Leaping Bunny mark ensures you're buying cruelty-free products 

How you can find out if a product is cruelty-free or vegan

How to get in touch with and support Cruelty Free International
Resources:
Connect with Monica Engebretson:
Connect with Our Hen House:
_____________________________________________
Thank you for listening to the Our Hen House podcast! If you enjoy our podcasts, believe in our mission to effectively mainstream the movement to end the exploitation of animals, find community and solace in our shows and resources, and would like to show your support for vegan indie media, please make a donation today.
You can listen to our podcast directly on our website, or subscribe on Apple Podcasts or your favorite podcatcher! Also, if you like what you hear, please rate it and leave us a comment on Apple Podcasts!
Don't forget to check out Our Hen House's other podcasts: The Animal Law Podcast, The Teaching Jasmin How to Cook Vegan Podcast, and the Antiracism in Animal Advocacy Audio Series.
__________________________
This episode is brought to you in part by Faunalytics. Faunalytics' mission is to empower animal advocates with access to research, analysis, strategies, and messages that maximize their effectiveness to reduce animal suffering. Animals need you, and you need data. We conduct essential research, maintain an online research library, and directly support advocates and organizations in their work to save lives. The range of data we offer helps our movement understand how people think about and respond to advocacy, providing advocates with the best strategies to inspire change for animals.
__________________________
This episode is brought to you in part through the generosity of A Well-Fed World. A Well-Fed World provides the means for change by empowering individuals, social justice organizations, and political decision makers to embrace the benefits of plant-based foods and farming. Learn more at awfw.org.