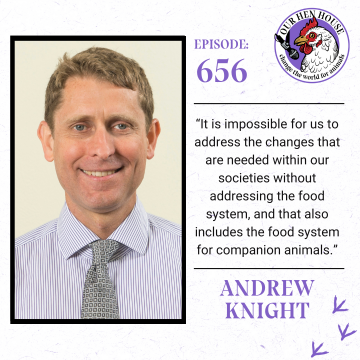 There are few issues more contentious amongst vegans than what to feed companion animals. So, this week, we are going there! Veterinarian, researcher, and animal welfare specialist Andrew Knight knows more about this topic than pretty much anyone, and we are thrilled that he is joining us for a discussion about his recent peer-reviewed study exploring the health impacts of vegan and meat-based diets and how he's helping companion animals lead their best lives on plant-based food. Andrew not only counters some of the stigmas attached to plant-based diets for companion animals but explains the potential benefits, including fewer gastrointestinal problems and healthier skin. He also offers listeners his advice on transitioning animals from a meat-based diet to a vegan diet and tips on finding nutritionally balanced vegan food for companion animals.
Please note: Since we recorded this episode, there have been dramatic developments in the ongoing story we discussed regarding the dispute over two rescued cattle involving Asha's Farm Sanctuary in Newfane, New York, including the arrest for grand larceny of the sanctuary's founder, Tracy Murphy.
*We are thrilled to expand the accessibility of our podcast by offering written transcripts of the interviews! Click here to read Jasmin's interview with Andrew Knight.*
Andrew Knight is a European, American, New Zealand, and RCVS-recognized Veterinary Specialist in animal welfare. He worked in UK small animal practice for nearly a decade before teaching for two years at Ross Uni School of Veterinary Medicine in the Caribbean. In 2015, he established the Centre for Animal Welfare at the University of Winchester, where he is a Professor of Animal Welfare and Ethics. He leads a distance learning MSc in Animal Welfare Science, Ethics, and Law. He has numerous academic and popular publications and a series of YouTube videos on animal welfare issues. Andrew has delivered around 200 external presentations on such issues; these include an extensive series examining scientific and educational animal use and alternatives, which formed the basis for his Ph.D. and subsequent book, The Costs and Benefits of Animal Experiments. His recent research focuses on the contributions of the livestock sector to climate change and on plant-based diets for companion animals.
"It is impossible for us to address the changes that are needed within our societies without addressing the food system, and that also includes the food system for companion animals." – Andrew Knight
Highlights for Episode 656:
Resources:
Connect with Andrew Knight:
Connect with Our Hen House:
_____________________________________________
Thank you for listening to the Our Hen House podcast! If you enjoy our podcasts, believe in our mission to effectively mainstream the movement to end the exploitation of animals, find community and solace in our shows and resources, and would like to show your support for vegan indie media, please make a donation today.
You can listen to our podcast directly on our website, or subscribe on Apple Podcasts or your favorite podcatcher! Also, if you like what you hear, please rate it and leave us a comment on Apple Podcasts!
Don't forget to check out Our Hen House's other podcasts: The Animal Law Podcast, The Teaching Jasmin How to Cook Vegan Podcast, and the Antiracism in Animal Advocacy Audio Series.
The Our Hen House theme song is written and performed by Michael Harren.
__________________________
This episode is brought to you in part by Miyoko's Creamery. From their humble beginnings with 4 employees in Miyoko's home kitchen, to a 30,000 sq ft. state-of-the-art facility in Sonoma, Miyoko's Creamery is leading the way in transforming the future of the creamery. Miyoko's Creamery is changing perceptions of vegan food, to inspire people from all walks of life to enjoy a phenomenally vegan lifestyle and right now our listeners can get 15% off by visiting their website and checking out with code HENHOUSE15.
__________________________
This episode is brought to you in part through the generosity of A Well-Fed World. A Well-Fed World provides the means for change by empowering individuals, social justice organizations, and political decision makers to embrace the benefits of plant-based foods and farming. Learn more at awfw.org.