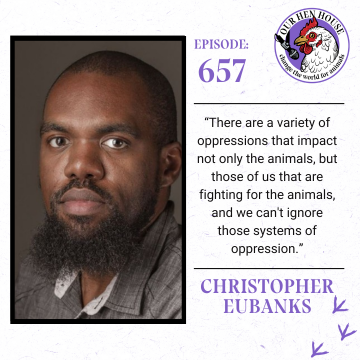 Christopher "Soul" Eubanks is an unstoppable force, and we're thrilled to welcome him back to the podcast this week to discuss his new nonprofit, APEX Advocacy. The organization is committed to increasing the number of activists from the global majority. Christopher describes the three central missions driving APEX Advocacy: the Black Vegan Everything website highlighting Black-owned businesses, the Global Majority Caucus committed to building greater equity in the animal protection movement, and the No Backyard Slaughter campaign fighting the presence of slaughterhouses in low-income BIPOC communities. Christopher also shares why people of color often feel an atmosphere of white-centricity in the animal rights movement and therefore don't feel welcome.
*We are thrilled to expand the accessibility of our podcast by offering written transcripts of the interviews! Click here to read Mariann's interview with Christopher Eubanks.*
Christopher "Soul" Eubanks is a social justice advocate, creative, and public speaker raised in Atlanta, GA who has dedicated himself to advocacy work that combats all forms of injustice. After learning the horrors of animal exploitation, Christopher became vegan, began doing community organizing, and has helped co-organize Atlanta's first-ever animal rights march. Christopher is the founder of APEX Advocacy, a non-profit animal rights organization that uses digital content and grassroots activism to help communities of color defend themselves against animal industries and fight for collective liberation.
"There are a variety of oppressions that impact not only the animals, but those of us that are fighting for the animals, and we can't ignore those systems of oppression." – Soul Eubanks
Highlights for Episode 657: 
Resources:
Connect with Soul Eubanks:
Connect with Our Hen House:
_____________________________________________
Thank you for listening to the Our Hen House podcast! If you enjoy our podcasts, believe in our mission to effectively mainstream the movement to end the exploitation of animals, find community and solace in our shows and resources, and would like to show your support for vegan indie media, please make a donation today.
You can listen to our podcast directly on our website, or subscribe on Apple Podcasts or your favorite podcatcher! Also, if you like what you hear, please rate it and leave us a comment on Apple Podcasts!
Don't forget to check out Our Hen House's other podcasts: The Animal Law Podcast, The Teaching Jasmin How to Cook Vegan Podcast, and the Antiracism in Animal Advocacy Audio Series.
The Our Hen House theme song is written and performed by Michael Harren.
__________________________
This episode is brought to you in part by Faunalytics. Faunalytics' mission is to empower animal advocates with access to research, analysis, strategies, and messages that maximize their effectiveness to reduce animal suffering. Animals need you, and you need data. We conduct essential research, maintain an online research library, and directly support advocates and organizations in their work to save lives. The range of data we offer helps our movement understand how people think about and respond to advocacy, providing advocates with the best strategies to inspire change for animals.
__________________________
This episode is brought to you in part through the generosity of A Well-Fed World. A Well-Fed World provides the means for change by empowering individuals, social justice organizations, and political decision makers to embrace the benefits of plant-based foods and farming. Learn more at awfw.org.