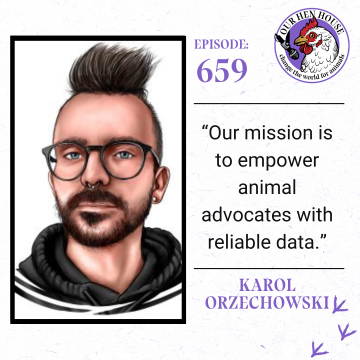 The brilliant karol orzechowski joins the podcast this week, and we couldn't be more thrilled! karol currently serves as the Content Director for Faunalytics, a nonprofit whose mission is to empower animal advocates with access to thorough, reliable data. While Faunalytics is best known for using research and statistics to strengthen pro-animal, anti-suffering activism, the organization is now also producing visual resources. karol shares why Faunalytics decided to incorporate visuals and how they hope access to this new resource will help animal activists. We discuss recent factsheets Faunalytics has created, including one detailing the pros and cons of cultured meat and another about the greyhound racing industry. karol also outlines what's next for the Faunalytics visual program and how they plan to move forward and share their data as widely as possible.
*We are thrilled to expand the accessibility of our podcast by offering written transcripts of the interviews! Click here to read Jasmin's interview with karol orzechowski.*
karol orzechowski is an animal advocate with a passion for blending activism and art. In addition to producing numerous short films on various animal issues, karol is the director of Maximum Tolerated Dose, a full-length documentary about the psychological toll of vivisection on both animals and humans. When he's not working for Faunalytics, karol is usually planning, hosting, or performing events in his local arts scene.
"Our mission is to empower animal advocates with reliable data." – karol orzechowski
Highlights for Episode 659: 
Resources:
Connect with karol orzechowski:
Connect with Our Hen House:
_____________________________________________
Thank you for listening to the Our Hen House podcast! If you enjoy our podcasts, believe in our mission to effectively mainstream the movement to end the exploitation of animals, find community and solace in our shows and resources, and would like to show your support for vegan indie media, please make a donation today.
You can listen to our podcast directly on our website, or subscribe on Apple Podcasts or your favorite podcatcher! Also, if you like what you hear, please rate it and leave us a comment on Apple Podcasts!
Don't forget to check out Our Hen House's other podcasts: The Animal Law Podcast, The Teaching Jasmin How to Cook Vegan Podcast, and the Antiracism in Animal Advocacy Audio Series.
The Our Hen House theme song is written and performed by Michael Harren.
__________________________
This episode is brought to you in part through the generosity of A Well-Fed World. A Well-Fed World provides the means for change by empowering individuals, social justice organizations, and political decision makers to embrace the benefits of plant-based foods and farming. Learn more at awfw.org.