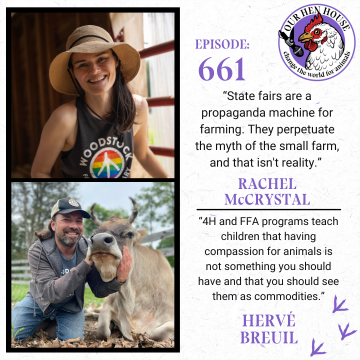 Summers in the United States are often synonymous with state and county fairs. Advertised as idyllic family fun, these fairs are replete with animal exploitation and the horrors of animal cruelty. Rachel McCrystal and Hervé Breuil of Woodstock Farm Sanctuary join the podcast this week to talk about what really happens to animals at such events. They outline the cruel realities of these fairs' live birth demonstrations, petting zoos and the dangers of overfeeding, and how state and county fairs perpetuate the myth of the small family farm. Luckily the Fair Coalition, a group of farmed animal sanctuaries and activist organizations, are working together to increase awareness about the realities of state and county fairs.
*We are thrilled to expand the accessibility of our podcast by offering written transcripts of the interviews! Click here to read Mariann's interview with Rachel McCrystal & Hervé Breuil.*
Rachel McCrystal has been working in animal rights and sheltering since 2005. Prior to that, she worked as a journalist. Rachel has been the Executive Director at Woodstock Sanctuary since 2017 and has been at the organization since 2014. She has worked on national advocacy and fundraising campaigns at large and small nonprofits. She writes and speaks on animal rights, radical ecology, and farmed animal activism. Rachel is also a nonprofit consultant—focusing on strategic planning and equity-focused leadership.
Hervé Breuil has been fighting for animal rights both in France and the United States since 2007. He previously conducted undercover investigations and was the Campaign Manager for the French animal rights organization L214, where he now is a board member. Since 2012 he has worked at Woodstock Sanctuary doing animal care, humane education, and outreach. He has been the Shelter Director since 2018 and is a national leader in animal care, shelter leadership, and advocacy for farmed animals.
"State farms are a propaganda machine for farming. They perpetuate the myth of the small farm, and that isn't reality." – Rachel McCrystal
"4H and FFA programs teach children that compassion for animals is not something you should have and that you should see them as commodities." – Hervé Breuil
Highlights for Episode 661: 
How state and county fairs display and exploit animals, such as scheduling live birth demonstrations

The exploitation of both farmed animals and exotic animals

Why fairs hide the slaughter trucks that take away and kill animals when the entertainment is over

How state fairs connect with 4H and Future Farmers of America (FFA) programs that aim to attract high schoolers into animal agriculture

Why fairs encourage overfeeding of animals in mobile petting zoos by encouraging people to buy food to interact with them and the health dangers involved

Why state fairs serve are animal agriculture propaganda 

How fairs give us a rare glimpse inside the world of large-scale animal agriculture

How the Fair Coalition came about and some of the members and supporters

The special role that sanctuaries can play in animal activism
Resources:
Connect with Rachel McCrystal and Hervé Breuil:
Connect with Our Hen House:
_____________________________________________
Thank you for listening to the Our Hen House podcast! If you enjoy our podcasts, believe in our mission to effectively mainstream the movement to end the exploitation of animals, find community and solace in our shows and resources, and would like to show your support for vegan indie media, please make a donation today.
You can listen to our podcast directly on our website, or subscribe on Apple Podcasts or your favorite podcatcher! Also, if you like what you hear, please rate it and leave us a comment on Apple Podcasts!
Don't forget to check out Our Hen House's other podcasts: The Animal Law Podcast, The Teaching Jasmin How to Cook Vegan Podcast, and the Antiracism in Animal Advocacy Audio Series.
The Our Hen House theme song is written and performed by Michael Harren.
__________________________
This episode is brought to you in part by Faunalytics. Faunalytics' mission is to empower animal advocates with access to research, analysis, strategies, and messages that maximize their effectiveness to reduce animal suffering. Animals need you, and you need data. We conduct essential research, maintain an online research library, and directly support advocates and organizations in their work to save lives. The range of data we offer helps our movement understand how people think about and respond to advocacy, providing advocates with the best strategies to inspire change for animals.
__________________________
This episode is brought to you in part through the generosity of A Well-Fed World. A Well-Fed World provides the means for change by empowering individuals, social justice organizations, and political decision makers to embrace the benefits of plant-based foods and farming. Learn more at awfw.org.