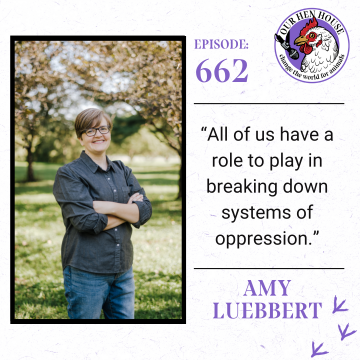 Amy Luebbert is the definition of a community powerhouse, and this week she joins us for a conversation about Des Moines, Iowa's growing vegan scene and the importance of approaching activism through an antiracist lens. Amy, a founding member and the President of VegLife Des Moines, tells us about the nonprofit's commitment to fostering community and connecting vegans—and the vegan-curious—to resources. She gives us an inside look into coordinating VegLife's summer market series and how the organization screens vendors to ensure their work aligns with VegLife's inclusive, anti-racist approach, as well as their sweet Halloween event designed to get vegan kids in on the fun! We also discuss how activists can continue the important antiracist work pioneered by the erstwhile organization, Encompass.  Last, but certainly not least, Amy tells us how she's making her dream of opening a liberated vegan sex shop a reality.
*We are thrilled to expand the accessibility of our podcast by offering written transcripts of the interviews! Click here to read Jasmin's interview with Amy Luebbert.*
Amy Luebbert (she/her) is a queer, vegan, antiracist activist in Des Moines, Iowa. In 2017, Amy founded VegLife Des Moines, a nonprofit with a mission to connect and grow the local community around veganism and anti-oppression. She is currently working towards opening a liberated sex shop because all bodies deserve pleasure, acceptance, comfort, and joy. In her downtime, you can find Amy snuggling cats, dancing, or cooking!
"All of us have a role to play in breaking down systems of oppression." – Amy Luebbert
Highlights for Episode 662: 
Resources:
Connect with Amy Luebbert:
Connect with Our Hen House:
_____________________________________________
Thank you for listening to the Our Hen House podcast! If you enjoy our podcasts, believe in our mission to effectively mainstream the movement to end the exploitation of animals, find community and solace in our shows and resources, and would like to show your support for vegan indie media, please make a donation today.
You can listen to our podcast directly on our website, or subscribe on Apple Podcasts or your favorite podcatcher! Also, if you like what you hear, please rate it and leave us a comment on Apple Podcasts!
Don't forget to check out Our Hen House's other podcasts: The Animal Law Podcast, The Teaching Jasmin How to Cook Vegan Podcast, and the Antiracism in Animal Advocacy Audio Series.
The Our Hen House theme song is written and performed by Michael Harren.
__________________________
This episode is brought to you in part by Miyoko's Creamery. From their humble beginnings with 4 employees in Miyoko's home kitchen, to a 30,000 sq ft. state-of-the-art facility in Sonoma, Miyoko's Creamery is leading the way in transforming the future of the creamery. Miyoko's Creamery is changing perceptions of vegan food, to inspire people from all walks of life to enjoy a phenomenally vegan lifestyle and right now our listeners can get 15% off by visiting their website and checking out with code HENHOUSE15.
__________________________
This episode is brought to you in part through the generosity of A Well-Fed World. A Well-Fed World provides the means for change by empowering individuals, social justice organizations, and political decision makers to embrace the benefits of plant-based foods and farming. Learn more at awfw.org.