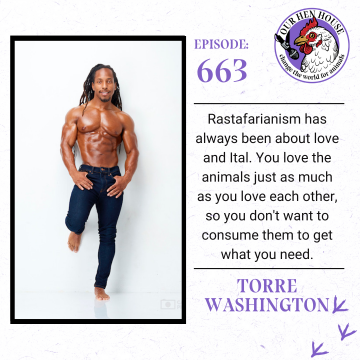 Torre Washington has caused quite a stir in the world of professional bodybuilding with his plant-powered, all natural approach to the sport. This week, he joins the podcast to discuss his personal  journey to veganism through Rastafari and the Ital diet, as well as how and why he got into the art of bodybuilding. Torre shares his reasons for following a plant-based diet, including how his upbringing in the US and Jamaica have influenced his eating habits. The bodybuilder walks us through the dietary staples that help ensure he's consuming the right amount of protein to build muscle and compete as a professional. We also cover Torre's coaching programs, which are not only for aspiring bodybuilders, and why maintaining integrity is intrinsic to how he lives his life.
*We are thrilled to expand the accessibility of our podcast by offering written transcripts of the interviews! Click here to read Mariann's interview with Torre Washington.*
Torre Washington is a NASM-certified coach and IFBB Pro. Raised vegetarian and vegan since 1998, Torre built his physique entirely on a plant-based regimen without the aid of supplements since 2009. Torre's training style focuses on physical symmetry and aesthetics "he disassembles your physique and reassembles it back the way you want it to be" and has therefore become one of the most sought-after coaches of celebrities and bodybuilders globally. Torre also advocates for veganism to his global fan base and brings to light the plight of animals and the need to heal mother earth through living a more plant-based vegan lifestyle.
"Rasta has always been about love and Ital. You love the animals just as much as you love each other so you don't want to consume them to get what you need." – Torre Washington
Highlights for Episode 662: 
Resources:
Connect with Torre Washington:
Connect with Our Hen House:
_____________________________________________
Thank you for listening to the Our Hen House podcast! If you enjoy our podcasts, believe in our mission to effectively mainstream the movement to end the exploitation of animals, find community and solace in our shows and resources, and would like to show your support for vegan indie media, please make a donation today.
You can listen to our podcast directly on our website, or subscribe on Apple Podcasts or your favorite podcatcher! Also, if you like what you hear, please rate it and leave us a comment on Apple Podcasts!
Don't forget to check out Our Hen House's other podcasts: The Animal Law Podcast, The Teaching Jasmin How to Cook Vegan Podcast, and the Antiracism in Animal Advocacy Audio Series.
The Our Hen House theme song is written and performed by Michael Harren.
__________________________
This episode is brought to you in part through the generosity of A Well-Fed World. A Well-Fed World provides the means for change by empowering individuals, social justice organizations, and political decision makers to embrace the benefits of plant-based foods and farming. Learn more at awfw.org.