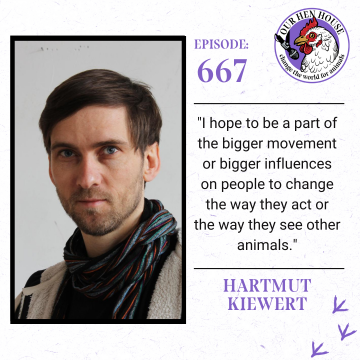 Imagine a world where cows, chickens, pigs and humans not only coexist, but live and flourish amongst each other within the same communities. For vegan artist Hartmut Kiewert, this is the definition of utopia, and he joins us on the podcast this week for a conversation about his truly unique artwork. Hartmut's Animal Utopia series, which depicts animals and humans thriving alongside one another in urban spaces, is the artist's vision for the next step toward an ideal, vegan world.  In the midst of a worsening climate crisis and horrific animal agriculture industry, Hartmut tells us why he believes it's crucial to show people what life on Earth could be and why he's committed to doing so through his work. Hartmut also discusses why so many artists struggle with authentically depicting and exploring animal rights issues and why he feels the next generation will help shape the conversation on human/animal relations.
*We are thrilled to expand the accessibility of our podcast by offering written transcripts of the interviews! Click here to read Jasmin's interview with Hartmut Kiewert.*
German-born Hartmut Kiewert studied painting and graphic arts at the Burg Giebichenstein Academy of Art in Halle (Saale) from 2003 to 2010, graduating in 2010 "with distinction." From 2007 to 2009, he was a German National Academic Foundation scholarship holder. Since 2008, Kiewert has been dealing with the social human-animal relationship. His paintings open up counter-images to today's human-animal relationship, which is characterized by exploitation and repression. Perspectives of an equal coexistence of humans and other animals are anticipated. In addition to many solo exhibitions, Kiewert's works have been shown in exhibitions such as ANIMAL TRANSITION (Städtische Galerie Ehingen), FoodFuturesART (Kunsthalle Faust, Hannover), ArtGenossen – Das Tier und wir (Städtische Galerie Fähre, Bad Saulgau), ANIMAL LOVERS (ngbk, Berlin), "we, animals" (Meinblau, Berlin), and "HABITAT – Wem gehört der Raum?" (Galerie KUB, Leipzig). Hartmut Kiewert lives and works in Leipzig, Germany.
"I hope to be a part of the bigger movement or bigger influences on people to change the way they act or the way they see other animals." – Hartmut Kiewert
Highlights for Episode 667: 
Why Hartmut hopes his art will inspire people to question their perceptions of how humans treat animals 

How art can help push animal rights forward

Why it is so vital to remind humans of what living in harmony with animals can look like

What the dangers of depicting utopia are, and why Hartmut decided to create his series anyway

Reactions Hartmut has had to his paintings

Why it is so essential to put pressure on politicians and on companies that profit from animal exploitation

In what ways Hartmut feels that attitudes toward animals are shifting in Germany
Resources:
Connect with Hartmut Kiewert:
Connect with Our Hen House:
_____________________________________________
Thank you for listening to the Our Hen House podcast! If you enjoy our podcasts, believe in our mission to effectively mainstream the movement to end the exploitation of animals, find community and solace in our shows and resources, and would like to show your support for vegan indie media, please make a donation today.
You can listen to our podcast directly on our website, or subscribe on Apple Podcasts or your favorite podcatcher! Also, if you like what you hear, please rate it and leave us a comment on Apple Podcasts!
Don't forget to check out Our Hen House's other podcasts: The Animal Law Podcast, The Teaching Jasmin How to Cook Vegan Podcast, and the Antiracism in Animal Advocacy Audio Series.
The Our Hen House theme song is written and performed by Michael Harren.
__________________________
This episode is brought to you in part through the generosity of A Well-Fed World. A Well-Fed World provides the means for change by empowering individuals, social justice organizations, and political decision makers to embrace the benefits of plant-based foods and farming. Learn more at awfw.org.