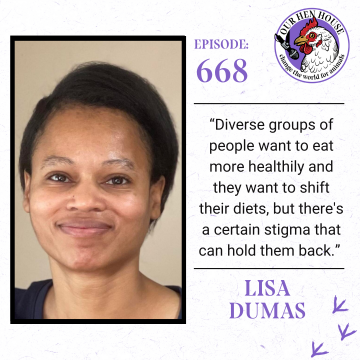 Lisa Dumas is on a mission to make the world a better place. This week she joins us on the podcast for a conversation about how she's working toward expanding access to plant-based food options to those in need. Not only is she increasing accessibility for healthy alternatives, Lisa is also helping underserved communities access critical educational information on making informed choices when it comes to health and well being. Lisa—the founder of  Black, Brown, and Diverse Plant-Based People for Equity Inc.—discusses why some communities may associate plant-based diets with cultural stigmas and whether she believes this will change in the near future. She also tells us why she was inspired to launch the non-profit, shares the group's vision of community support, and discusses their ideas for future programs to achieve their goals.
*We are thrilled to expand the accessibility of our podcast by offering written transcripts of the interviews! Click here to read Jasmin's interview with Lisa Dumas.*
Lisa Dumas began her career in marketing and communications for the diversity consulting firm The Winters Group. She is presently a freelance journalist and editor. She graduated from SUNY Brockport with a B.S. in journalism and is currently working on a Master's in Communications at the Rochester Institute of Technology. In June of this year, Lisa created Black, Brown, and Diverse Plant-Based People for Equity Inc., and she is the founder of the Facebook group Black, Brown, and Diverse Vegans, which has over 700 national and global members. Lisa also founded the local Facebook group Black, Brown, and Diverse Vegans in Rochester.
"Diverse groups of people want to eat more healthily and they want to shift their diets, but there's a certain stigma that can hold them back." – Lisa Dumas
Highlights for Episode 668: 
Some of the barriers underserved communities face in accessing healthy plant-based foods

Why there is a cultural stigma for some communities about making the switch to plant-based foods

Examples of what cities can do to make it easier for people to eat healthily on a budget

The program Lisa is starting in Rochester that she plans to take nationwide

What dietary racism is, and how major supermarkets can do more to improve access to healthy vegan food options 

The Food That Slaps program, how it works, and the plan to appeal to marginalized communities with events such as free grocery giveaways and health-related pop-up events 

Lisa's ongoing community projects, including the Food Pantry, the Restaurant Re-Education Program, and the Small Business Development Loan initiative

Why Lisa is focusing on people's immediate needs and hoping that environmental and animal rights messages evolve as a result of meeting their emergency needs

How listeners can learn more about how B

lack, Brown, and Diverse Plant-Based People for Equity Inc.

works and support their efforts
Resources:
Connect with Lisa Dumas:
Connect with Our Hen House:
_____________________________________________
Thank you for listening to the Our Hen House podcast! We just kicked off our end-of-year matching campaign, meaning that between now and December 31, your donations will be TRIPLED, dollar-for-dollar, up to $20,000! That means with your donation—plus our Barnyard Benefactors and an added boost from an anonymous donor—we are hoping to raise $60k total.
We can't do it without you! The only way we'll receive the matching funds is if we successfully reach our goal of raising $20k from our loyal supporters by the end of the year.  So, if you like Our Hen House, if you believe in our mission to effectively mainstream the movement to end the exploitation of animals, if you find community and solace in our shows and resources, and if you believe in the change-making power of indie media, please make a donation today.
You can listen to our podcast directly on our website, or subscribe on Apple Podcasts or your favorite podcatcher! Also, if you like what you hear, please rate it and leave us a comment on Apple Podcasts!
Don't forget to check out Our Hen House's other podcasts: The Animal Law Podcast, The Teaching Jasmin How to Cook Vegan Podcast, and the Antiracism in Animal Advocacy Audio Series.
The Our Hen House theme song is written and performed by Michael Harren.
__________________________
This episode is brought to you in part through the generosity of A Well-Fed World. A Well-Fed World provides the means for change by empowering individuals, social justice organizations, and political decision makers to embrace the benefits of plant-based foods and farming. Learn more at awfw.org.