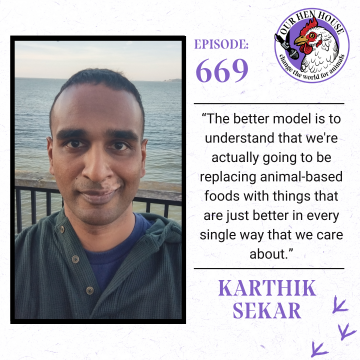 Karthik Sekar, PhD wants to see the world move beyond an unsustainable, inefficient animal-based food system. He joins us on the podcast this week for a conversation about his recent book, After Meat, which details why animals are an outdated "production technology," as the agricultural industry calls them. We discuss why plant- and microbial-based foods are far superior to their animal counterparts in terms of taste, nutrition, and affordability. Karthik, a data scientist focused on innovating the future of food, also explores the argument for why governments worldwide should invest in replacing animal agriculture with a viable alternative. Plus, he explains why he's not necessarily choosing to champion cultivated meat.
*We are thrilled to expand the accessibility of our podcast by offering written transcripts of the interviews! Click here to read Mariann's interview with Karthik Sekar.*
Karthik Sekar has a doctorate in Chemical Engineering from Northwestern University. His research career has spanned many topics related to the future of food, such as bioreactors, quantitative biology, biochemical engineering, and metabolism. He currently works as a senior data scientist in the alternative food space in Berkeley, California, and has written a non-fiction science/technology book, After Meat, to explain why animals are awful technologically, and why humanity will move on and do better.
"The better model is to understand that we're actually going to be replacing animal-based foods with things that are just better in every single way that we care about." – Karthik Sekar
Highlights for Episode 669: 
Why animals are fundamentally limited and outdated as a "production technology" and what that means in practical terms

What the term fermented means when talking about meat alternatives 

How products like Quorn are created and why they're not always vegan

Why it's easier to innovate with biomass fermentation in terms of taste, nutrition, and efficiency

What Karthik means when he says that he doesn't just plan to replicate meat; he plans to improve and reinvent what we eat

Why he feels that anti-GMO sentiments are standing in the way of transitioning out of animal agriculture

Regulatory issues Karthik anticipates for biomass fermented foods

What Karthik would do to change the way the alternative, animal-friendly food movement is working
Connect with Karthik Sekar:
Connect with Our Hen House:
_____________________________________________
Thank you for listening to the Our Hen House podcast! We just kicked off our end-of-year matching campaign, meaning that between now and December 31, your donations will be TRIPLED, dollar-for-dollar, up to $20,000! That means with your donation—plus our Barnyard Benefactors and an added boost from an anonymous donor—we are hoping to raise $60k total.
We can't do it without you! The only way we'll receive the matching funds is if we successfully reach our goal of raising $20k from our loyal supporters by the end of the year.  So, if you like Our Hen House, if you believe in our mission to effectively mainstream the movement to end the exploitation of animals, if you find community and solace in our shows and resources, and if you believe in the change-making power of indie media, please make a donation today.
You can listen to our podcast directly on our website, or subscribe on Apple Podcasts or your favorite podcatcher! Also, if you like what you hear, please rate it and leave us a comment on Apple Podcasts!
Don't forget to check out Our Hen House's other podcasts: The Animal Law Podcast, The Teaching Jasmin How to Cook Vegan Podcast, and the Antiracism in Animal Advocacy Audio Series.
The Our Hen House theme song is written and performed by Michael Harren.
__________________________
This episode is brought to you in part through the generosity of A Well-Fed World. A Well-Fed World provides the means for change by empowering individuals, social justice organizations, and political decision makers to embrace the benefits of plant-based foods and farming. Learn more at awfw.org.