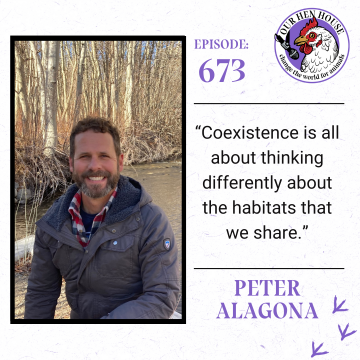 Author Peter Alagona, PhD,  joins us on the podcast this week for an illuminating conversation about the wild creatures that coexist alongside humans as part of the fabric of city life, as well as the habitat the city itself creates for these animals. Since World War II, populations of wild animals have increased in urban areas largely due to, as Peter explains, the vast amount of resources cities provide, including food, water, and shelter. We also delve into some of the animal stories he covers in his book The Accidental Ecosystem, such as the shocking revelation that, once upon a time, squirrels actually had to be  reintroduced to urban areas! We discuss the wildlife found in and around our cities today—think mountain lions, bears, and gray squirrels—and Peter offers solutions to help humans peacefully live alongside urban wild creatures.
*We are thrilled to expand the accessibility of our podcast by offering written transcripts of the interviews! Click here to read Mariann's interview with Peter Alagona.*
Peter Alagona is a professor of environmental studies at the University of California, Santa Barbara (UCSB). He is the recipient of several awards, including a National Science Foundation CAREER grant, and is the author of more than three-dozen publications in the areas of environmental history, geography, philosophy, and policy—including After the Grizzly: Endangered Species and the Politics of Place in California, and, most recently, The Accidental Ecosystem: People and Wildlife in American Cities. Prior to arriving at UCSB, Peter received his Ph.D. at UCLA and completed fellowships at Harvard and Stanford Universities.
"Coexistence is all about thinking differently about the habitats that we share." – Peter Alagona
Highlights for Episode 673:
Resources:
Connect with Peter Alagona:
Connect with Our Hen House:
_____________________________________________
Thank you for listening to the Our Hen House podcast! We just kicked off our end-of-year matching campaign, meaning that between now and December 31, your donations will be TRIPLED, dollar-for-dollar, up to $20,000! That means with your donation—plus our Barnyard Benefactors and an added boost from an anonymous donor—we are hoping to raise $60k total.
We can't do it without you! The only way we'll receive the matching funds is if we successfully reach our goal of raising $20k from our loyal supporters by the end of the year.  So, if you like Our Hen House, if you believe in our mission to effectively mainstream the movement to end the exploitation of animals, if you find community and solace in our shows and resources, and if you believe in the change-making power of indie media, please make a donation today.
You can listen to our podcast directly on our website, or subscribe on Apple Podcasts or your favorite podcatcher! Also, if you like what you hear, please rate it and leave us a comment on Apple Podcasts!
Don't forget to check out Our Hen House's other podcasts: The Animal Law Podcast, The Teaching Jasmin How to Cook Vegan Podcast, and the Antiracism in Animal Advocacy Audio Series.
The Our Hen House theme song is written and performed by Michael Harren.
__________________________
This episode is brought to you in part through the generosity of A Well-Fed World. A Well-Fed World provides the means for change by empowering individuals, social justice organizations, and political decision makers to embrace the benefits of plant-based foods and farming. Learn more at awfw.org.