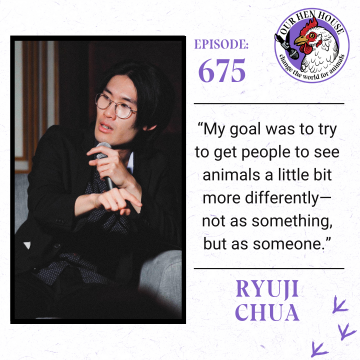 We're thrilled to welcome filmmaker Ryuji Chua to the podcast this week. You may already be familiar with Ryuji, and his animal rights-focused work, thanks to his appearance on The Daily Show with Trevor Noah earlier this year. In our conversation, Ryuji tells us why it's important for humans to shift our messaging from broad generalizations, such as saving a species, to recognizing the plight of individual animals who are struggling. We discuss the cognitive dissonance many people have when it comes to the way the animals they eat suffer and why it's easier for them to believe that animals lack that capacity than it is to change their habits. Plus, Ryuji shares how he came to be a late-night talk show guest, and how his conversation with Trevor Noah went in an unexpected direction.
*We are thrilled to expand the accessibility of our podcast by offering written transcripts of the interviews! Click here to read Mariann's interview with Ryuji Chua*
Ryuji Chua is a filmmaker who seeks to create a kinder world by connecting humans with non-human animals. He currently works as a video producer at Surge Activism, is an advisor for the Vegan Hacktivists, and was recently featured on The Daily Show with Trevor Noah to talk about animal rights and his latest independent documentary, "How Conscious Can A Fish Be?"
"My goal was to try to get people to see animals a little bit differently—not as something, but as someone." – Ryuji Chua
Highlights for Episode 675: 
Ryuji's appearance on

The Daily Show with Trevor Noah

 

Why he thinks it's so essential to help non-vegans feel like they're not being judged when we share information about animals

Why Ryuji decided to focus on fish and why there's such huge potential to make the world better for fish, more so than other animals

Why humans don't see fish as intelligent creatures who can feel pain

Some of the impressive things salmon can do 

How Ryuji strikes a balance between conveying the intelligence of animals and sharing the horror of slaughterhouse footage in his videos

Ryuji's Tedx talk and why he was compelled to share his perspective on the climate crisis and its consequences for animals and ecosystems

Why humans need to be shown how their actions are hurting individual animals, not just how they're damaging species, ecosystems, or biodiversity at large

Ryuji's recent video about greyhound racing, made in conjunction with Faunalytics

Some of the other topics Ryuji has tackled and his plans moving forward
Resources:
Connect with Ryuji Chua:
Connect with Our Hen House:
_____________________________________________
Thank you for listening to the Our Hen House podcast! We just kicked off our end-of-year matching campaign, meaning that between now and December 31, your donations will be TRIPLED, dollar-for-dollar, up to $20,000! That means with your donation—plus our Barnyard Benefactors and an added boost from an anonymous donor—we are hoping to raise $60k total.
We can't do it without you! The only way we'll receive the matching funds is if we successfully reach our goal of raising $20k from our loyal supporters by the end of the year.  So, if you like Our Hen House, if you believe in our mission to effectively mainstream the movement to end the exploitation of animals, if you find community and solace in our shows and resources, and if you believe in the change-making power of indie media, please make a donation today.
You can listen to our podcast directly on our website, or subscribe on Apple Podcasts or your favorite podcatcher! Also, if you like what you hear, please rate it and leave us a comment on Apple Podcasts!
Don't forget to check out Our Hen House's other podcasts: The Animal Law Podcast, The Teaching Jasmin How to Cook Vegan Podcast, and the Antiracism in Animal Advocacy Audio Series.
The Our Hen House theme song is written and performed by Michael Harren.
__________________________
This episode is brought to you in part through the generosity of A Well-Fed World. A Well-Fed World provides the means for change by empowering individuals, social justice organizations, and political decision makers to embrace the benefits of plant-based foods and farming. Learn more at awfw.org.