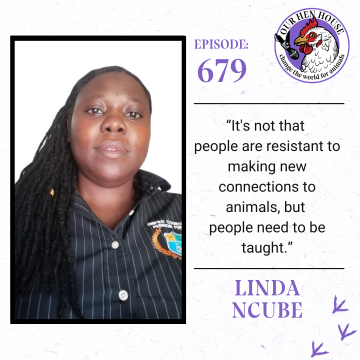 We love hearing from fellow animal advocates in different parts of the world, and this week we are thrilled to welcome Linda Ncube for an exceptional conversation about animal activism in rural Zimbabwe. Linda is the founder of Humane Africa Trust, a nonprofit dedicated to creating a "compassionate, healthy, and just environment" for animals. She joins us to explain how she's educating her surrounding communities on the benefits of a plant-based lifestyle as well as the importance of caring for all animals. A devout Seventh-day Adventist, Linda shares how her faith impacts her relationship with animals and guides her advocacy work. Plus, we get into the current state of factory farming in Zimbabwe, how colonialism has changed the traditional Zimbabwean diet, and how Linda teaches children to respect and care for animals.
*We are thrilled to expand the accessibility of our podcast by offering written transcripts of the interviews! Click here to read Mariann's interview with Linda Ncube*
Founder & Executive Director of Humane Africa Trust, Linda Ncube, is an animal lover advocating for the welfare of animals in Lupane, Zimbabwe. Humane Africa Trust is a non-profit organization with the mission of creating a better world for all animals. Her love for animals and Christian background makes her want to see human and non-human animals coexist perfectly as God's creations. Linda is also an advocate for plant-based education and teaching communities about the benefits of eating plant-based. She is a devout member of the Seventh Day Adventist church and holds a diploma in Development Studies, Bachelor's Degree, and a Master's Degree in Local Governance Studies. She lives with her three human kids and four non-human kids (two dogs, Fender & Copper, and two cats, Kiratile & Jelly B Precise). A day well spent in her life is when she gives service to any non-human animal.
"It's not that people are resistant to making new connections to animals, but people need to be taught."
 – Linda Ncube
 Highlights for Episode 679:
Resources:
Connect with Linda Ncube:
Connect with Our Hen House:
_____________________________________________
Thank you for listening to the Our Hen House podcast! If you enjoy our podcasts, believe in our mission to effectively mainstream the movement to end the exploitation of animals, find community and solace in our shows and resources, and would like to show your support for vegan indie media, please make a donation today.
You can listen to our podcast directly on our website, or subscribe on Apple Podcasts or your favorite podcatcher! Also, if you like what you hear, please rate it and leave us a comment on Apple Podcasts!
Don't forget to check out Our Hen House's other podcasts: The Animal Law Podcast, The Teaching Jasmin How to Cook Vegan Podcast, and the Antiracism in Animal Advocacy Audio Series.
The Our Hen House theme song is written and performed by Michael Harren.
__________________________
This episode is brought to you in part through the generosity of A Well-Fed World. A Well-Fed World provides the means for change by empowering individuals, social justice organizations, and political decision makers to embrace the benefits of plant-based foods and farming. Learn more at awfw.org.