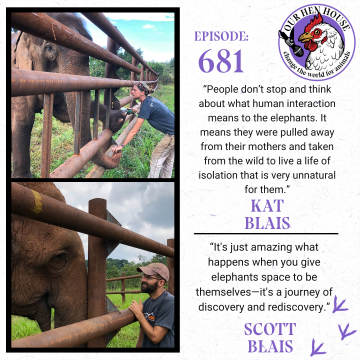 This one just might move you to tears. Why? Because it's about ELEPHANTS! Need we say more? Scott and Kat Blais have dedicated their careers to helping captive elephants live out the rest of their lives the way nature intended. This week they join the podcast from rural Brazil, home to Elephant Sanctuary Brazil, a project by the organization they founded, Global Sanctuary for Elephants (GSE), and the new home of some magnificent and fantastic creatures. In our conversation, we discuss the worldwide mission of GSE as well as its plans for the future. Scott and Kat also tell us why it's essential that animal lovers avoid visiting "sanctuaries" that allow elephant-human interactions and why that kind of contact can be so damaging for these extraordinary animals. We also get into the broader issues of why it's crucial for humans to start living within our means instead of further encroaching on animals' habitats.
*We are thrilled to expand the accessibility of our podcast by offering written transcripts of the interviews! Click here to read Mariann's interview with Scott & Kat Blais*
Scott Blais, the CEO and co-founder of Global Sanctuary for Elephants (GSE), carries a lifetime of experience working for captive elephants. He is an expert in natural habitat elephant sanctuary development and the co-founder of two elephant sanctuaries: the largest in North America – The Elephant Sanctuary in Tennessee (TES) – and the only sanctuary for elephants in South America -Elephant Sanctuary Brazil. His ground-breaking work has transformed how the world views the lives of captive elephants.
Kat Blais, the cofounder of GSE, began her career with 15 years as a licensed veterinary technician, practicing in all realms, including orthopedics, emergency care, holistic medicine, and wildlife. She worked as lead caregiver and veterinary liaison at TES for six years, supervising and participating in the care of 15 resident elephants. Kat's past elephant experiences guide her in creating a safe and healing space for elephants in South America.
"People don't stop and think about what human interaction means to the elephants. It means they were pulled away from their mothers and taken from the wild to live a life of isolation that is very unnatural for them." – Kat Blais
"It's just amazing what happens when you give elephants space to be themselves—it's a journey of discovery and rediscovery." – Scott Blais
Highlights for Episode 681: 
Resources:
Connect with  Scott and Kat Blais:
Connect with Our Hen House:
_____________________________________________
Thank you for listening to the Our Hen House podcast! If you enjoy our podcasts, believe in our mission to effectively mainstream the movement to end the exploitation of animals, find community and solace in our shows and resources, and would like to show your support for vegan indie media, please make a donation today.
You can listen to our podcast directly on our website, or subscribe on Apple Podcasts or your favorite podcatcher! Also, if you like what you hear, please rate it and leave us a comment on Apple Podcasts!
Don't forget to check out Our Hen House's other podcasts: The Animal Law Podcast, The Teaching Jasmin How to Cook Vegan Podcast, and the Antiracism in Animal Advocacy Audio Series.
The Our Hen House theme song is written and performed by Michael Harren.
__________________________
This episode is brought to you in part through the generosity of A Well-Fed World. A Well-Fed World provides the means for change by empowering individuals, social justice organizations, and political decision makers to embrace the benefits of plant-based foods and farming. Learn more at awfw.org.