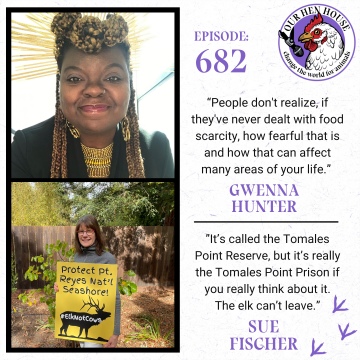 You're in for not one but two interviews with incredible activists in this episode! We're thrilled to welcome both Gwenna Hunter and Sue Fischer back to the podcast for updates.  
First, we catch up with Gwenna about her newest project, the Vegans of LA Food Bank. Gwenna tells us how she turned a longtime dream into a reality after partnering with Hope On Union Food Pantry to launch a monthly all-vegan food bank. Housed in a former meat market, the Vegans of LA Food Bank provides fresh produce and plant-based meats to the community. We dive into the importance of food banks, the community's response to vegan specialty products, and the negative impacts of food deserts. 
Then, Sue joins the show for an update about the Tule Elk of California's Point Reyes National Seashore. Sue first joined us on episode 618 to tell us about the damage cattle ranchers and dairy facilities are inflicting on the members of this native elk species who call the National Seashore home. Sue tells us about the lack of water and forage available to a herd penned in by fences and how local activist groups continue to bring attention to the heartbreaking situation. She also updates us on an ongoing lawsuit regarding the promised lease extensions for dairy and cattle businesses that will allow them to take this land away from the elk and other wildlife, in spite of the fact that, as a national park, it belongs to us all.
*We are thrilled to expand the accessibility of our podcast by offering written transcripts of the interviews! Click here to read Mariann's interview with Gwenna Hunter and here to read the interview with Sue Fischer*
Gwenna Hunter is the founder of Vegans of Los Angeles, aka Vegans of LA. In May of 2022, she launched the first Vegan Food Bank in Los Angeles and is now the first Black woman to have a brick-and-mortar vegan food bank in the United States. Gwenna went vegan in February of 2016 after experiencing a supernatural awakening and sharing the same consciousness with a cow in a dream state. This experience allowed her to fully understand that cows are aware of their existence and love, as are all animals. She is also a co-author of the books Vegan Voices for Animals Liberation and Vegan Voices. Gwenna has worked in the movement doing various forms of activism to help people make the connection and reprogram their belief systems regarding the treatment of animals and how we see food. 
Vegan since 2012, Sue Fischer has worked as a registered dietitian for about 15 years. Her previous advocacy had predominantly been related to food—encouraging people to eat more plants and less (preferably no) animals. It was the fall of 2018 when Sue viewed the documentary, The Shame of Point Reyes. Her discovery left her feeling incredibly sad for the suffering elk and cows, launching her activism in this area. Her current work brings together many of the most critical issues we currently face when advocating for wildlife impacted by climate change, the harms of animal agriculture, and the importance of our national park system.
"People don't realize if they've never dealt with food scarcity, how fearful that is, and how that can affect many areas of your life." – Gwenna Hunter
"It's called the Tomales Point Reserve, but it's really the Tomales Point Prison if you really think about it. The elk can't leave." – Sue Fischer
Highlights for Episode 681: 
How the Vegans of LA Foodbank partnered with the

Hope on Union

food pantry to begin offering vegan options

Gwenna's joy in having turned a former meat market into a vegan space, at least partially,  and how she works with vegan and non-vegan volunteers alike

The kinds of food people can find at the vegan food bank and where the food comes from 

How the local community has reacted to being offered plant-based foods and how Gwenna shares her expertise on vegan cooking 

Messaging and resources Gwenna is creating to help educate others on the benefits of a vegan diet

What's next for the Vegans of LA food bank

How local dairy and cattle operations are impacting the Tule Elk of Point Reyes National Seashore

How government officials are allowing these exploitative businesses to expand their operations, despite activist organizations calling for their removal

The dangerous lack of water and food for the Tule Elk and how activists attempt to provide such necessities while shedding light on the issue

The rapidly declining number of Tule Elk and why Sue believes last year's count has yet to be released

Why, despite public perception, the Tule Elk aren't truly free to roam the land
Resources:
Connect with our guests:
Connect with Our Hen House:
_____________________________________________
Thank you for listening to the Our Hen House podcast! If you enjoy our podcasts, believe in our mission to effectively mainstream the movement to end the exploitation of animals, find community and solace in our shows and resources, and would like to show your support for vegan indie media, please make a donation today.
You can listen to our podcast directly on our website, or subscribe on Apple Podcasts or your favorite podcatcher! Also, if you like what you hear, please rate it and leave us a comment on Apple Podcasts!
Don't forget to check out Our Hen House's other podcasts: The Animal Law Podcast, The Teaching Jasmin How to Cook Vegan Podcast, and the Antiracism in Animal Advocacy Audio Series.
The Our Hen House theme song is written and performed by Michael Harren.
__________________________
This episode is brought to you in part through the generosity of A Well-Fed World. A Well-Fed World provides the means for change by empowering individuals, social justice organizations, and political decision makers to embrace the benefits of plant-based foods and farming. Learn more at awfw.org.