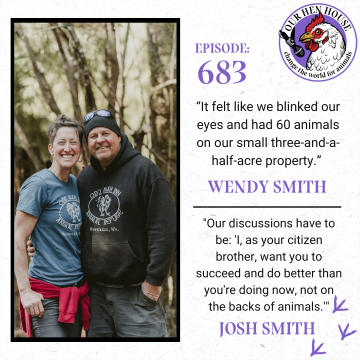 When Josh and Wendy Smith adopted Roswell, the dog, they didn't imagine caring for him would lead them to start their very own animal sanctuary. We're thrilled to welcome Josh and Wendy to the podcast this week to hear this and more inspiring stories about their sanctuary, Odd Man Inn, their animal advocacy work, and their recent move across the country.
That move involved relocating the sanctuary and its many animal residents from Washington state to a much bigger property in rural Tennessee, where they assumed the care of an additional 160 rescued pigs. Whether they are talking about their breakdown on the highway, trailer full of rescued pigs in tow, the challenges involved in refitting their new property, or the stories about what their new Southern neighbors think of their animal advocacy, the animals are always at the center of the story.  Wendy also shares how a career as a nurse prepared her not only to run a farmed animal sanctuary but also to educate people from where they are.  
*We are thrilled to expand the accessibility of our podcast by offering written transcripts of the interviews! Click here to read Jasmin's interview with Josh & Wendy Smith*
Josh Smith is the Facility Manager and co-Founder of Odd Man Inn animal rescue; he is the Farm Dad, a graduate of Embry-Riddle Aeronautical University with a personal interest in "Scroungineering." 
Wendy Smith is the Executive Director and co-Founder of Odd Man Inn; she is a military veteran, emergency room trauma nurse, and Farm Mom. 
Josh and Wendy started Odd Man Inn because their dog Roswell, who suffered from fear-based aggression and a tendency to bite, made him extremely difficult to manage. Instead of giving up on him, they purchased land so he could leave city life in Portland behind and created a safe space for him and other animals who were out of options.
"It felt like we blinked our eyes and had 60 animals on our small three-and-a-half-acre property." – Wendy Smith
"Our discussions have to be: 'I, as your citizen brother, want you to succeed and do better than you're doing now, not on the backs of animals.'" – Josh Smith
Highlights for Episode 683: 
Resources:
Connect with Josh & Wendy Smith:
Connect with Our Hen House:
_____________________________________________
Thank you for listening to the Our Hen House podcast! If you enjoy our podcasts, believe in our mission to effectively mainstream the movement to end the exploitation of animals, find community and solace in our shows and resources, and would like to show your support for vegan indie media, please make a donation today.
You can listen to our podcast directly on our website, or subscribe on Apple Podcasts or your favorite podcatcher! Also, if you like what you hear, please rate it and leave us a comment on Apple Podcasts!
Don't forget to check out Our Hen House's other podcasts: The Animal Law Podcast, The Teaching Jasmin How to Cook Vegan Podcast, and the Antiracism in Animal Advocacy Audio Series.
The Our Hen House theme song is written and performed by Michael Harren.
__________________________
This episode is brought to you in part through the generosity of A Well-Fed World. A Well-Fed World provides the means for change by empowering individuals, social justice organizations, and political decision makers to embrace the benefits of plant-based foods and farming. Learn more at awfw.org.