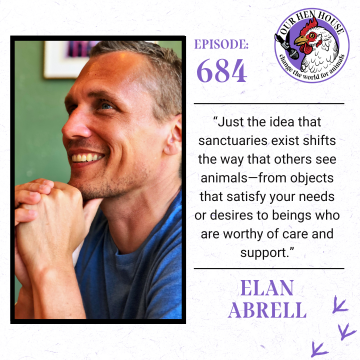 Sometimes it is easy for all of us who care about animals to forget what an extraordinary contribution sanctuaries make to our understanding of the animals we try to serve. Elan Abrell joins us this week to remind us never to take sanctuaries for granted. Elan is a cultural anthropologist who's dedicated himself to animal studies and, recently, to a close and thoughtful look at animal sanctuaries. His book, Saving Animals: Multispecies Ecologies of Rescue and Care, examines how sanctuary caregivers respond to an extraordinary range of moral issues while working with minimal resources. He describes what his role as a cultural anthropologist entails, walks us through his decisions on which sanctuaries to study, including one for companion animals, one for exotic animals, and one for farmed animals, and shares how he evaluated their general philosophy in regard to interacting with and caring for animals. Elan also gives an overview of the differences in various sanctuary approaches and whether he believes sanctuaries can provide animals with genuinely happy lives.
*We are thrilled to expand the accessibility of our podcast by offering written transcripts of the interviews! Click here to read Mariann's interview with Elan Abrell*
Elan Abrell is a cultural anthropologist whose research and writing focus on human-animal interactions, environmental justice, and food politics. His book, Saving Animals: Multispecies Ecologies of Rescue and Care (University of Minnesota Press 2021) — an ethnography of animal sanctuaries and winner of the 2022 Gregory Bateson Book Prize from the Society for Cultural Anthropology — examines how sanctuary caregivers respond to a range of ethical dilemmas and material constraints while attempting to meet the various and sometimes conflicting needs of rescued animals. Elan is an assistant professor of the practice in Environmental Studies, Science in Society, and Integrative Sciences at Wesleyan University. He is also the coordinator of Wesleyan's new Animal Studies Minor.
"Just the idea that sanctuaries exist shifts the way that others see animals—from objects that satisfy your needs or desires to beings who are worthy of care and support." – Elan Abrell
Highlights for Episode 684: 
Elan explains how animal sanctuaries, despite sharing fundamental principles, can differ when it comes to what they hope to achieve

The attitudes surrounding animal deaths at the sanctuaries Elan visited 

The anomaly of sanctuaries, such as those for companion animals  or exotic animals, that are run by individuals who don't adhere to vegan diets

The conflicts around the decision to euthanize animals in sanctuaries

The problems with sanctuaries serving as tourist attractions

The goal of the sanctuary movement and ideas for how humans and animals could live in harmony

Why so many people want to start a sanctuary and Elan's thoughts on the challenges of creating an animal sanctuary

Why Elan believes that caring for animals should be a governmental function

The impact sanctuaries have on the way people think about animals

Elan's chapter in the new book

The Good it Promises, the Harm It Does: Critical Essays on Effective Altruism,

and why he is dubious about the focus some supporters of effective altruism have adopted
Resources:
Connect with Elan Abrell:
Connect with Our Hen House:
_____________________________________________
Thank you for listening to the Our Hen House podcast! If you enjoy our podcasts, believe in our mission to effectively mainstream the movement to end the exploitation of animals, find community and solace in our shows and resources, and would like to show your support for vegan indie media, please make a donation today.
You can listen to our podcast directly on our website, or subscribe on Apple Podcasts or your favorite podcatcher! Also, if you like what you hear, please rate it and leave us a comment on Apple Podcasts!
Don't forget to check out Our Hen House's other podcasts: The Animal Law Podcast, The Teaching Jasmin How to Cook Vegan Podcast, and the Antiracism in Animal Advocacy Audio Series.
The Our Hen House theme song is written and performed by Michael Harren.
__________________________
This episode is brought to you in part through the generosity of A Well-Fed World. A Well-Fed World provides the means for change by empowering individuals, social justice organizations, and political decision makers to embrace the benefits of plant-based foods and farming. Learn more at awfw.org.