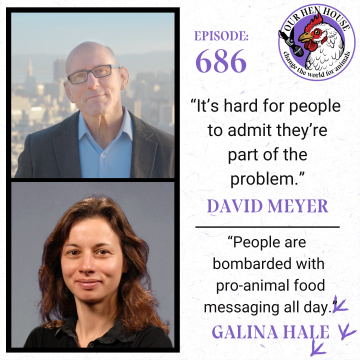 Disrupting the global food system is one of the most pressing issues of our lifetimes—and it's no small lift. Today, we welcome two powerhouses working to help the world shift to a kinder, plant-based food system. David Meyer and Galina Hale serve as the CEO and Chief Research Officer, respectively, of Food System Innovations (FSI). They join us this week to discuss the nonprofit's mission to transform the food system, diving into, among other things, the enormous funding disparities between research beneficial to animal ag and that geared toward alternative proteins. They also discuss the public perception of "processed" plant-based foods and the differences in labeling requirements for animal-based and plant-based foods. Plus, they share details of some projects FSI is currently spearheading.
*We are thrilled to expand the accessibility of our podcast by offering written transcripts of the interviews! Click here to read Mariann's interview with David Meyer & Galina Hale*
David Meyer is an executive with deep experience at the nexus of the nonprofit and for-profit sectors and a strong interest in environmental sustainability, animal welfare, and working to find sustainable solutions that benefit a diverse set of stakeholders. He is co-founder and CEO ofFood System Innovations and Humane America Animal Foundation. He is also a trustee for the Food System Research Fund. He was the interim Executive Director and is a strategic advisor to the Plant Based Foods Association, and advises the Good Food Institute, the Plant Based World Conference and Expo, the Material Innovation Initiative, Pivot Food Investment, and many other nonprofits and for-profits in the space.
Galina Hale  is a Professor of Economics at UC Santa Cruz and the co-founder and Chief Research Officer of Food System Innovations. She served as a Research Advisor at the Federal Reserve Bank of San Francisco, and as an assistant professor in the economics department of Yale University.  Galina is a director of the CEBRA's IFM program and a co-director of the UCSC Center for Analytical Finance (CAFIN).   Galina has been recently working on ways economists can inform policymakers on how to make the food system more sustainable. She serves on editorial boards of a number of Economics journals and on multiple boards and committees in animal welfare and animal agriculture space.
"People are bombarded with pro-animal food messaging all day." – Galina Hale
"It's hard for people to admit that they're part of the problem." – David Meyer
Highlights for Episode 686: 
Resources:
Connect with David Meyer and Galina Hale:
Connect with Our Hen House:
_____________________________________________
Thank you for listening to the Our Hen House podcast! If you enjoy our podcasts, believe in our mission to effectively mainstream the movement to end the exploitation of animals, find community and solace in our shows and resources, and would like to show your support for vegan indie media, please make a donation today.
You can listen to our podcast directly on our website, or subscribe on Apple Podcasts or your favorite podcatcher! Also, if you like what you hear, please rate it and leave us a comment on Apple Podcasts!
Don't forget to check out Our Hen House's other podcasts: The Animal Law Podcast, The Teaching Jasmin How to Cook Vegan Podcast, and the Antiracism in Animal Advocacy Audio Series.
Join the Our Hen House Community online!
The Our Hen House theme song is written and performed by Michael Harren.
__________________________
This episode is brought to you in part through the generosity of A Well-Fed World. A Well-Fed World provides the means for change by empowering individuals, social justice organizations, and political decision makers to embrace the benefits of plant-based foods and farming. Learn more at awfw.org.