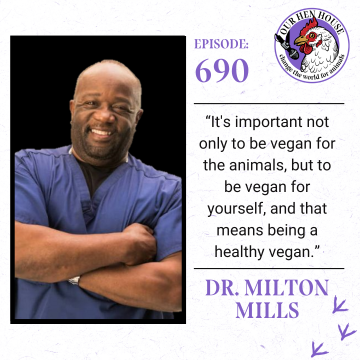 Dr. Milton Mills, a prominent advocate for plant-based diets and a practicing physician, joins us this week for an in-depth discussion about the misconceptions surrounding vegan diets and how such misunderstandings have evolved over time. Dr. Mills, who offers extensive evidence that humans aren't innate omnivores, thoroughly debunks the myth that humans need meat to be healthy and explains how taking responsibility for our own health through our diet can be more effective than relying solely on Western medicine. But for Dr. Mills, it's not just about your health.  He also shares his thoughts on the deeply problematic societal norm of killing animals for food and how his spiritual beliefs align with his vegan lifestyle.
*We are thrilled to expand the accessibility of our podcast by offering written transcripts of the interviews! Click here to read Mariann's interview with Dr. Milton Mills*
Milton Mills, MD, practices urgent care medicine in the Washington DC area and has served previously as Associate Director of Preventive Medicine and as a member of the National Advisory Board for Physicians Committee for Responsible Medicine (PCRM). He has been a major contributor to position papers presented by PCRM to the United States Department of Agriculture regarding Dietary Guidelines for Americans and has been the lead plaintiff in PCRM's class action lawsuit that asks for warning labels on milk. Dr. Mills earned his medical degree at Stanford University School of Medicine and completed an Internal Medicine residency at Georgetown University Hospital. He has published several research journal articles dealing with racial bias in federal nutrition policy. He frequently donates his time by practicing at free medical clinics and travels widely, speaking at hospitals, churches, and community centers throughout the country. He was featured in the wildly popular film "What the Health."
"It's important not only to be vegan for the animals, but to be vegan for yourself, and that means being a healthy vegan." – Dr. Milton Mills
Highlights for Episode 690: 
Why it's encouraging to see that veganism is surpassing vegetarianism as a popular lifestyle choice, and why this shift is happening

Dr. Mills debunks the idea that humans need meat to be healthy  and explains why a plant-based diet is the best way to provide the necessary nutrients for a healthy lifestyle

Why we need to start taking responsibility for our own health through our diet, rather than relying solely on Western medicine, and how this approach can be effective in treating chronic diseases

Dr. Mills shares the two central reasons why we don't have to sacrifice our health for animal rights 

The fundamental principle of a healthy vegan diet and why this is so important

How Dr. Mills' experience as a Black man in America has prepared him for vegan advocacy
Connect with Dr. Milton Mills:
Connect with Our Hen House:
_____________________________________________
Thank you for listening to the Our Hen House podcast! If you enjoy our podcasts, believe in our mission to effectively mainstream the movement to end the exploitation of animals, find community and solace in our shows and resources, and would like to show your support for vegan indie media, please make a donation today.
You can listen to our podcast directly on our website, or subscribe on Apple Podcasts or your favorite podcatcher! Also, if you like what you hear, please rate it and leave us a comment on Apple Podcasts!
Don't forget to check out Our Hen House's other podcasts: The Animal Law Podcast, The Teaching Jasmin How to Cook Vegan Podcast, and the Antiracism in Animal Advocacy Audio Series.
Join the Our Hen House Community online!
The Our Hen House theme song is written and performed by Michael Harren.
__________________________
This episode is brought to you in part through the generosity of A Well-Fed World. A Well-Fed World provides the means for change by empowering individuals, social justice organizations, and political decision makers to embrace the benefits of plant-based foods and farming. Learn more at awfw.org.