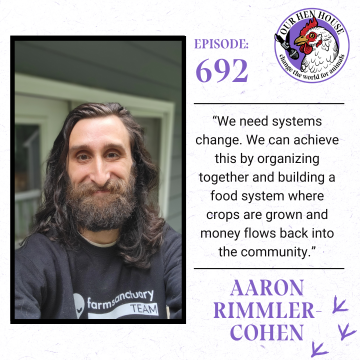 Since its founding in 1986, Farm Sanctuary has advocated for farmed animals and large-scale institutional reform with the ultimate goal of removing animals from the food system. Senior Director of Advocacy Aaron Rimmler-Cohen joins the podcast this week to discuss Farm Sanctuary's Food Systems Shift program. In our conversation, Aaron discusses the disastrous policy of government subsidies of animal products and explains why the nonprofit is shifting resources to community-based organizations building sustainable, plant-based food systems. He also highlights three key ways it encourages the federal government to support such a community-focused shift.
*We are thrilled to expand the accessibility of our podcast by offering written transcripts of the interviews! Click here to read Jasmin's interview with Aaron Rimmler-Cohen*
Aaron Rimmler-Cohen (he/his) is the new Senior Director of Advocacy at Farm Sanctuary. He has spent the last 18 months as the Senior Manager of Farm Sanctuary's "Food System Shift" program, investigating how a platform of just and sustainable food system transformation can end animal agriculture over the long term. He has previously held relevant, director-level roles in politics, agriculture, and at a community-based food system consultancy in North Carolina, has a Master of Public Policy degree from Duke University, and has also served as a co-instructor on "Well-Being Economics."
"We need systems change. We can achieve this by organizing together and building a food system where crops are grown, and money flows back into the community." – Aaron Rimmler-Cohen
Highlights for Episode 692: 
How Farm Sanctuary aims to shift financial, social, and political resources toward community-based organizations that build sustainable, plant-based food systems

Why farmed animal sanctuaries provide a good starting point for advocacy 

How Farm Sanctuary approaches coalition building by meeting people where they are and working together to build a food system that works for everyone, including animals, people, and the planet

The allies Farm Sanctuary is working with to bridge the divide between vegan organizations and advocates for small animal agriculture operations

The problem with commodity subsidies that support large-scale industrial farming while leaving out fruits and vegetables 

Aaron's vision for a community-focused approach to food infrastructure

Three key things the federal government can do to provide support for a shift to community food infrastructure 

How the Healthy Future Students and Earth Pilot Programme Act, as well as the Food and Farm Act, could support a more widespread switch to a vegan diet

The impact factory farming is having on the acceleration of the climate crisis
Connect with Aaron Rimmler-Cohen:
Connect with Our Hen House:
_____________________________________________
Thank you for listening to the Our Hen House podcast! If you enjoy our podcasts, believe in our mission to effectively mainstream the movement to end the exploitation of animals, find community and solace in our shows and resources, and would like to show your support for vegan indie media, please make a donation today.
You can listen to our podcast directly on our website, or subscribe on Apple Podcasts or your favorite podcatcher! Also, if you like what you hear, please rate it and leave us a comment on Apple Podcasts!
Don't forget to check out Our Hen House's other podcasts: The Animal Law Podcast, The Teaching Jasmin How to Cook Vegan Podcast, and the Antiracism in Animal Advocacy Audio Series.
Join the Our Hen House Community online!
The Our Hen House theme song is written and performed by Michael Harren.
__________________________
This episode is brought to you in part through the generosity of A Well-Fed World. A Well-Fed World provides the means for change by empowering individuals, social justice organizations, and political decision makers to embrace the benefits of plant-based foods and farming. Learn more at awfw.org.