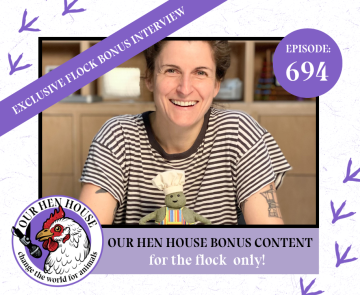 After we fell in love with The Tiny Chef Show's Rachel Larson on episode 694, we were lucky enough to have her join us for this extended conversation to discuss her personal journey, including how she got involved in stop-motion animation. We learn more about little Rachel growing up feeling like she didn't fit in, as well as her path to becoming sober and going vegan. You don't want to miss it.
We hope to see you soon in the Our Hen House Community, where you can share your thoughts on this bonus content or any recent guests. We are always so thrilled to hear from you!
Thank you for being a part of our flock and for everything you do to create a more compassionate world.