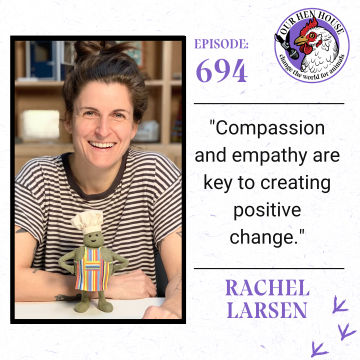 Just five years ago, a very small herbivorous chef who resides in a modest tree stump took Instagram by storm, impressing thousands with his culinary expertise and tiny, plant-based eats—and he hasn't slowed down since. In fact, he even helms his very own show on Nick Jr. The Tiny Chef has captured hearts worldwide, and this week, director and animator Rachel Larsen joins us for a conversation about the tiny culinarian. Rachel shares how her personal journey led her to embrace veganism and how adhering to a plant-based lifestyle has influenced her creative work, including The Tiny Chef Show. Plus, we're joined by a surprise guest you'll certainly want to hear from.
*We are thrilled to expand the accessibility of our podcast by offering written transcripts of the interviews! Click here to read Jasmin's interview with Rachel Larsen*
Rachel Larsen is a Writer, Director, and Animator with credits to her name like Coraline, Tumble Leaf, ParaNorman, and Isle of Dogs. An Annie and Emmy-nominated animator, with lots of experience working with, and sometimes breaking, tiny things, Rachel now dedicates most of her time to helping Tiny Chef bring his tiny vision to the world.  Chef counts on Rachel to help him with his on-camera performance, drive him to his voice lessons, and to taste test his new dishes. In the fall of 2022, The Tiny Chef Show aired on Nickelodeon and has earned a Kidscreen Award and a converted Annie Award.
"Compassion and empathy are key to creating positive change." – Rachel Larsen
Highlights for Episode 694: 
How Rachel's views on veganism changed after conversations with a vegan friend

Why change is difficult and uncomfortable but necessary for societal growth 

Why the word "vegan" carries weight, but, at its core, is a simple choice

How Rachels hopes The Tiny Chef will inspire kids to cook and encourage them to understand the source of their food

How Rachel fell in love with stop-motion animation, and some of the projects she has been involved with

How labels can be helpful but can also lead to unchecked beliefs

How quitting drinking and adopting a vegan diet helped Rachel clear the noise from her life and pursue a more direct path toward her goals

How we can learn to focus on the positive and work toward a kinder world, rather than getting bogged down in negativity and judgment 

The importance of extending compassion to everyone
Connect with The Tiny Chef Show:
Connect with Our Hen House:
_____________________________________________
Thank you for listening to the Our Hen House podcast! If you enjoy our podcasts, believe in our mission to effectively mainstream the movement to end the exploitation of animals, find community and solace in our shows and resources, and would like to show your support for vegan indie media, please make a donation today.
You can listen to our podcast directly on our website, or subscribe on Apple Podcasts or your favorite podcatcher! Also, if you like what you hear, please rate it and leave us a comment on Apple Podcasts!
Don't forget to check out Our Hen House's other podcasts: The Animal Law Podcast, The Teaching Jasmin How to Cook Vegan Podcast, and the Antiracism in Animal Advocacy Audio Series.
Join the Our Hen House Community online!
The Our Hen House theme song is written and performed by Michael Harren.
__________________________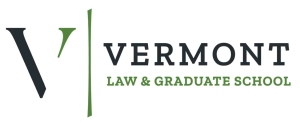 This episode of the Our Hen House podcast is sponsored in part by the Vermont Law & Graduate School's Animal Law and Policy Institute.
Vermont Law and Graduate School's Animal Law and Policy Institute trains tomorrow's animal advocacy leaders to advance animals' legal status through education, scholarship, policy development, community engagement, and litigation. Engaging with advocacy organizations, communities, journalists, and policymakers, the Institute serves as a resource hub for animal law and policy issues.
__________________________
This episode is brought to you in part through the generosity of A Well-Fed World. A Well-Fed World provides the means for change by empowering individuals, social justice organizations, and political decision makers to embrace the benefits of plant-based foods and farming. Learn more at awfw.org.