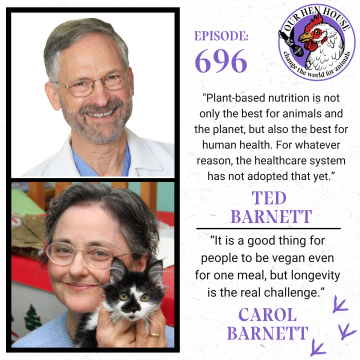 The Standard American Diet—heavy in dairy and meat products—has long been known to contribute to chronic, diet-related illnesses, including type 2 diabetes and heart disease. Long-time vegans know this quite well, but what about the general public? 
Dr. Ted Barnett and Carol Barnett join the podcast to discuss the Rochester Lifestyle Medicine Institute and how they support those looking to switch to a whole food plant-based lifestyle. The husband-and-wife team tells us about their mission to educate folks about the benefits of a vegan diet and how their 15-Day Whole-Food Plant-Based Jumpstart program is helping them do just that. Plus, we get into the Barnetts' involvement in the Rochester Area Vegan Society (RAVS), why they go to Vegan Summerfest every year, and what gives them hope for the future of our world.
*We are thrilled to expand the accessibility of our podcast by offering written transcripts of the interviews! Click here to read Jasmin's interview with Ted & Carol Barnett*
Dr. Ted Barnett is a highly regarded physician and health advocate known for his innovative yet practical approach to patient care. He holds an MD from Tufts University and is board certified in Diagnostic Imaging and Vascular and Interventional Radiology. He is the Founding President and Board Chair of Rochester Lifestyle Medicine Institute and a partner at Borg and Ide Imaging in Rochester, NY. Dr. Barnett is also a board-certified Lifestyle Medicine physician and a lead lecturer for "Jumpstarting Health," a 24 CME lifestyle medicine and plant-based nutrition course. He and his family have thrived on an exclusively plant-based diet since 1991. Dr. Barnett is widely recognized as the "High-Tech Doctor with Low-Tech Solutions."
Carol Barnett, who holds two graduate degrees from Yale University,  found her true calling as a vegan advocate when, in 1995, she and Ted took over running the Rochester Area Vegetarian Society (RAVS), which later became the Rochester Area Vegan Society. Carol works with Rochester Lifestyle Medicine Institute to create plant-based content, and she attends just about every session of the 15-Day Whole-Food Plant-Based Jumpstart as well as the Alumni Group, Plant-Based Together. Carol is active in her town, where she serves on the board of a nonprofit dedicated to preserving a parcel along the Genesee River, and she can often be found out in the field planting trees. She has rescued, or helped to rescue, scores of cats over the years, and she and Ted have adopted many of them, including a now 17-year-old feral cat named Mugsy. Carol's fondest accomplishment is raising three vegan kids with Ted: Rebecca, Elizabeth, and Nathaniel, all "vegangelists" who spread the vegan message each in their own way.
"Plant-based nutrition is not only the best for animals and the planet, but also the best for human health. For whatever reason, the healthcare system has not adopted that yet." – Dr. Ted Barnett
"It is a good thing for people to be vegan even for one meal, but longevity is the real challenge." – Carol Barnett
Highlights for Episode 696: 
How the Rochester Lifestyle Medicine Institute teaches plant-based nutrition and why they're also doing medical research

How the COVID-19 pandemic ended up opening opportunities for the Rochester Lifestyle Medicine Institute

The 15-Day Whole-Food Plant-Based Jumpstart and why it's the heart and soul of the Institute

Why people feel so good when they switch to a plant-based diet

The institute's target audience and the role that community plays in making such a significant lifestyle change

How documentaries such as

Game Changers

and

Forks Over Knives

have changed the world for vegans and prospective vegans

How Ted and Carol help people maintain a vegan diet and their experiences with their friends and family

How they address the fact that vegans can also be diagnosed with cancer and other diseases

Why they also try to introduce people to the ethical and environmental benefits of being vegan in addition to the health benefits

The six pillars of lifestyle medicine and why Ted has added his own plant-based pillar

Why they got involved in the Rochester Area Vegan Society (RAVS) and how the organization helps its members

What gives Ted and Carol hope for the future of our world
Resources:
Connect with Ted & Carol Barnett:
Connect with Our Hen House:
_____________________________________________
Thank you for listening to the Our Hen House podcast! If you enjoy our podcasts, believe in our mission to effectively mainstream the movement to end the exploitation of animals, find community and solace in our shows and resources, and would like to show your support for vegan indie media, please make a donation today.
You can listen to our podcast directly on our website, or subscribe on Apple Podcasts or your favorite podcatcher! Also, if you like what you hear, please rate it and leave us a comment on Apple Podcasts!
Don't forget to check out Our Hen House's other podcasts: The Animal Law Podcast, The Teaching Jasmin How to Cook Vegan Podcast, and the Antiracism in Animal Advocacy Audio Series.
Join the Our Hen House Community online!
The Our Hen House theme song is written and performed by Michael Harren.
__________________________
This episode is brought to you in part through the generosity of A Well-Fed World. A Well-Fed World provides the means for change by empowering individuals, social justice organizations, and political decision makers to embrace the benefits of plant-based foods and farming. Learn more at awfw.org.