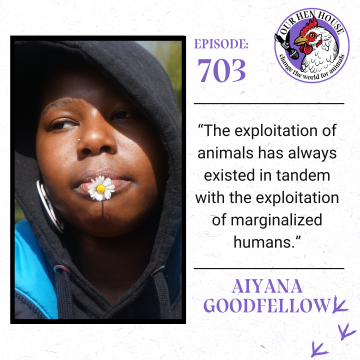 Writer, liberator, and self-described DELINQUENT Aiyana Goodfellow joins the podcast this week for an eye-opening conversation that just might shift your perspective on many things, including veganism, anti-speciesism, and activism. 
Aiyana shares their thoughts on the mainstream vegan movement and the importance of developing one's own ideology instead of simply "performing goodness" in your lifestyle and activism. We dive into why strategy is the backbone of successful activism and how Aiyana tailors their message of anti-speciesism to meet their audience where it's at. Aiyana also discusses themes of their first book, Radical Companionship: Rejecting Pethood and Embracing Our Multispecies World, and shares details of their upcoming book, INNOCENCE AND CORRUPTION.
*We are thrilled to expand the accessibility of our podcast by offering written transcripts of the interviews! Click here to read Jasmin's interview with Aiyana Goodfellow*
Aiyana Goodfellow (he/she/they) is a writer, liberator, and DELINQUENT artist and organizer based in London, UK. They are the author of Radical Companionship: Rejecting Pethood & Embracing Our Multispecies World, which they published at the age of 15.
"The exploitation of animals has always existed in tandem with the exploitation of marginalized humans." – Aiyana Goodfellow
Resources: 
Highlights for Episode 703: 
What Aiyana means when they describe themself as a DELINQUENT and how, along with their writing and liberation work, this identity intersects with their animal activism

Aiyana's book,

Radical Companionship: Rejecting Pethood and Embracing Our Multispecies World,

and the importance of unlearning our oppressive tendencies toward the animals that share our homes 

How we can build a more liberated way of engaging with non-human animals of all kinds

What Aiyana means when they say "animals create," why understanding this is a practice of nature, and how it can help us connect with other animals and with the world around us

How animal advocacy and anti-speciesism fit into Aiyana's anti-colonial philosophy

 

How the term

"white veganism" relates to white supremacy

Why veganism has become a capitalist term that refers to diet rather than a holistic ideology that includes a political and moral framework

How Aiyana is trying to educate people on what being a vegan really means

How allyship changes your material reality and why performative allyship is harmful to marginalized communities, including non-human animals

More about Aiyana's Black-led, UK-based micro-publishing house, The Anima Print, and her upcoming book Innocence and Corruption castles, and the accent
Connect with Aiyana Goodfellow:
Connect with Our Hen House:
_____________________________________________
Thank you for listening to the Our Hen House podcast! If you enjoy our podcasts, believe in our mission to effectively mainstream the movement to end the exploitation of animals, find community and solace in our shows and resources, and would like to show your support for vegan indie media, please make a donation today.
You can listen to our podcast directly on our website or subscribe on Apple Podcasts or your favorite podcatcher! Also, if you like what you hear, please rate it and leave us a comment on Apple Podcasts!
Don't forget to check out Our Hen House's other podcasts: The Animal Law Podcast, The Teaching Jasmin How to Cook Vegan Podcast, and the Antiracism in Animal Advocacy Audio Series.
Join the Our Hen House Community online!
The Our Hen House theme song is written and performed by Michael Harren.
__________________________
This episode is brought to you in part through the generosity of A Well-Fed World. A Well-Fed World provides the means for change by empowering individuals, social justice organizations, and political decision makers to embrace the benefits of plant-based foods and farming. Learn more at awfw.org.