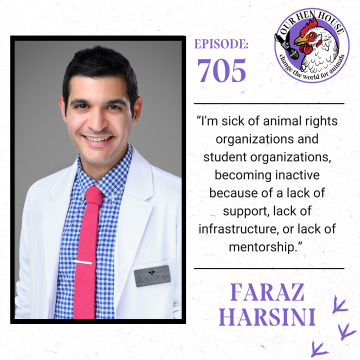 Faraz Harsini, Ph.D., realized something was missing from the animal rights movement and decided to fill that gap. The organization he founded, Allied Scholars for Animal Protection (ASAP), is helping university students and others on campus build ongoing, lasting advocacy organizations. We discuss ASAP's long-term plans for expansion, how students can get help starting their own chapter, the support ASAP offers, and why Faraz believes connecting animal rights folk on campus is crucial. He also tells us about his role at The Good Food Institute and the research they're doing to scale the production of cultivated meat.
*We are thrilled to expand the accessibility of our podcast by offering written transcripts of the interviews! Click here to read Mariann's interview with Dr Faraz Harsini*
Dr. Faraz Harsini has advocated for animal rights for over ten years. He is a biomedical scientist and Allied Scholars for Animal Protection (ASAP) CEO and founder. This non-profit organization supports students interested in advocating for animal protection and pursuing careers that can make a difference. He is also a Bioprocessing Senior Scientist at Good Food Institute, where he works on advancing scientific and technological methods to produce alternative proteins on a large scale. Dr. Harsini believes that the root cause of many global issues affecting humans and animals is linked to the food system. Therefore, he aims to change the food system through his work at GFI and to train and support students to become future leaders in animal protection through ASAP.
"I'm sick of animal rights organizations and student organizations becoming inactive because of a lack of support, lack of infrastructure, or lack of mentorship." – Faraz Harsini
Resources: 
Highlights for Episode 705: 
The three key areas ASAP focuses on: outreach, education, and empowerment

How they're supporting student dining halls to go plant-based and make veganism as accessible as possible

Why so many university students struggle to remain vegan

How Faraz aims to show students how to take their passions and channel them into long-term animal advocacy 

ASAP's goal of establishing chapters where vegans can connect and access education and lectures 

Faraz's tips for students who want to advocate for veganism on their campus effectively

How students can set up an ASAP chapter at their university and the infrastructure support ASAP offers

The Elwood Dog Meat spoof and the impact it had on the student body at Texas Tech

Faraz's position at The Good Food Institute and what he does as a Bioprocessing Senior Scientist to help scale the production of cultivated meat
Connect with Dr. Faraz Harsini:
Connect with Our Hen House:
_____________________________________________
Thank you for listening to the Our Hen House podcast! If you enjoy our podcasts, believe in our mission to effectively mainstream the movement to end the exploitation of animals, find community and solace in our shows and resources, and would like to show your support for vegan indie media, please make a donation today.
You can listen to our podcast directly on our website or subscribe on Apple Podcasts or your favorite podcatcher! Also, if you like what you hear, please rate it and leave us a comment on Apple Podcasts!
Don't forget to check out Our Hen House's other podcasts: The Animal Law Podcast, The Teaching Jasmin How to Cook Vegan Podcast, and the Antiracism in Animal Advocacy Audio Series.
Join the Our Hen House Community online!
The Our Hen House theme song is written and performed by Michael Harren.
__________________________
This episode is brought to you in part through the generosity of A Well-Fed World. A Well-Fed World provides the means for change by empowering individuals, social justice organizations, and political decision makers to embrace the benefits of plant-based foods and farming. Learn more at awfw.org.