Panicked about climate? Wondering what to do? Nate Salpeter and Shira Jacobson join us to discuss Sweet Farm, a sanctuary that is attacking the climate crisis from many different angles. From animal rescue to the most sophisticated agriculture technology, from plant-based regenerative ag to composting, Sweet Farm will give you hope and inspire you on your journey!
ABOUT OUR GUESTS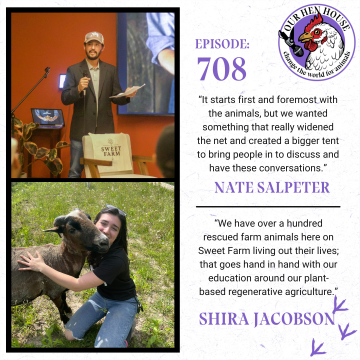 Nate Salpeter, who holds a Ph.D. in engineering, is, along with Anna Sweet, a co-founder of Sweet Farm, which is a place of education, inspiration, and innovation through farm animal rescue, regenerative agriculture, and technology initiatives to scale accessible change in the food and climate systems globally. Nate is also an investor in the alternative protein, agriculture technology, and sustainability sectors and a general partner at SNØCAP, an emerging climate innovation fund that aims to enable sector shifts and unlock the potential for previously unimaginable companies to exist.
Shira Jacobson is a marketing and social media specialist and the Development and Communications Manager at Sweet Farm, where she works to make the world a kinder, more sustainable place for all.
RESOURCES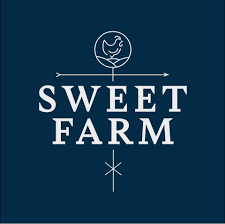 INTERVIEW TRANSCRIPT
Jasmin Singer: Welcome to Our Hen House, Nate and Shira!
Nate Salpeter: Thank you so much for having us.
Shira Jacobson: Thank you. Excited to be here.
Jasmin Singer: We're actually the ones excited to be here, just so that we can be clear on that.
_____________________________________________
Thank you for listening to the Our Hen House podcast! If you enjoy our podcasts, believe in our mission to effectively mainstream the movement to end the exploitation of animals, find community and solace in our shows and resources, and would like to show your support for vegan indie media, please make a donation today.
Subscribe to our show on Apple Podcasts or your favorite podcatcher, and don't forget to leave a 5-star review!
Check out Our Hen House's other podcasts: The Animal Law Podcast, The Teaching Jasmin How to Cook Vegan Podcast, and the Antiracism in Animal Advocacy Audio Series.
Join us in the Our Hen House Community, or follow us on social media! You can find Our Hen House on Facebook, Instagram, or Twitter.
The Our Hen House theme song is written and performed by Michael Harren.
__________________________
This episode is brought to you in part through the generosity of A Well-Fed World. A Well-Fed World provides the means for change by empowering individuals, social justice organizations, and political decision makers to embrace the benefits of plant-based foods and farming. Learn more at awfw.org.