We love hearing from people around the world who care about animals, and this week's guest definitely fills the bill. Tune in to hear about all of the work Musisi Mike, founder of Luv4All Uganda, is doing to grow compassion for both animals and humans, including running Uganda's first all-vegan school.
ABOUT OUR GUEST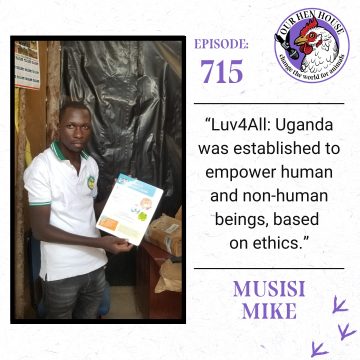 Musisi Mike is the Founder of Luv4All Uganda, a group dedicated to caring for all lives, human and non-human, through vegan advocacy and other local programs, including The Atlas Vegan School. He received his diploma in agribusiness management and now uses his education to spread veganic farming to fight hunger in his region.
RESOURCES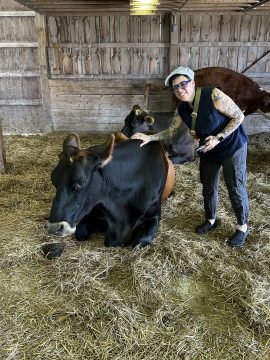 Jasmin Singer: Welcome to Our Hen House, Musisi Mike. Can you tell us what Love for All Uganda is?
Musisi Mike: Love for All Uganda, it is an organization, which is a community based, located in the Kasanda district in Uganda. The organization was established to empower human and non-human beings, based on ethics. As an organization, we are empowering the communities in different categories.
_____________________________________________
Thank you for listening to the Our Hen House podcast! If you enjoy our podcasts, believe in our mission to effectively mainstream the movement to end the exploitation of animals, find community and solace in our shows and resources, and would like to show your support for vegan indie media, please make a donation today.
Subscribe to our show on Apple Podcasts or your favorite podcatcher, and don't forget to leave a 5-star review!
Check out Our Hen House's other podcasts: The Animal Law Podcast, The Teaching Jasmin How to Cook Vegan Podcast, and the Antiracism in Animal Advocacy Audio Series.
Join us in the Our Hen House Community, or follow us on social media! You can find Our Hen House on Facebook, Instagram, or Twitter.
The Our Hen House theme song is written and performed by Michael Harren.
__________________________
This episode is brought to you in part through the generosity of A Well-Fed World. A Well-Fed World provides the means for change by empowering individuals, social justice organizations, and political decision-makers to embrace the benefits of plant-based foods and farming. Learn more at awfw.org.