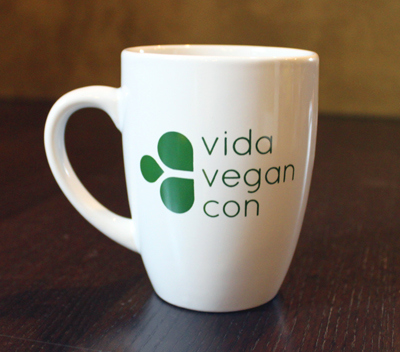 Welcome to the 177th episode of Our Hen House, Official Honoree of the 2013 Webby Awards. Today's episode features a look inside this past week's Vida Vegan Con, featuring interviews with Sadie Bowman from The Intprepid Herbivores, Nicole Sopko and Dan Staackman from Upton's Natural's, Jill from Vegan Cuts, Jason Das from SuperVegan, and Janessa Philemon-Kerp, one of the organizers of this unique and groundbreaking conference.
Today, we will report back from our time in Portland, Oregon. We'll tell you about our workshops, how advocacy fit in at this food-filled event, which fruity stench nearly caused us to run for our lives, and why animal rights isn't rocket science. We'll also revisit the conversation surrounding the meaning of the word "vegan." Our guests – Sadie, Nicole, Dan, Jill, Jason and Janessa – will enlighten, entertain, and educate.
For our review, we'll talk about where we get our protein, and give you our thoughts on Tofurky's new artisan sausages, Leahey Foods vegan mac and cheese, and Judas' Original (vegan) Jerky.
All that, vegan banter, and of course, current events from the world of animal rights.
For a list of the news items we discuss in today's episode, and then some, take a look at the breaking news ticker at the top of the page, and also check out our list of archived news items.

You can listen to our podcast directly on our blog (below!) or you can listen and subscribe on iTunes! Also, if you like what you hear, please rate it on iTunes, and don't forget to leave us a friendly comment! Of course, we would be thrilled if you would also consider making a donation, or becoming a member of our flock (especially if you're a regular listener). Any amount is hugely appreciated, and Our Hen House is a 501(c)(3) nonprofit organization, so it's tax-deductible! Don't forget – we're reader and listener supported. Plus, we offer some fantastic thank you gifts for your donations. Thank you for helping us to create quality content, and for helping us to bring you a new, hour-long (and then some) podcast episode each week!
"I own one share of the corporate Earth, and I'm uneasy about the management." -E. B. White