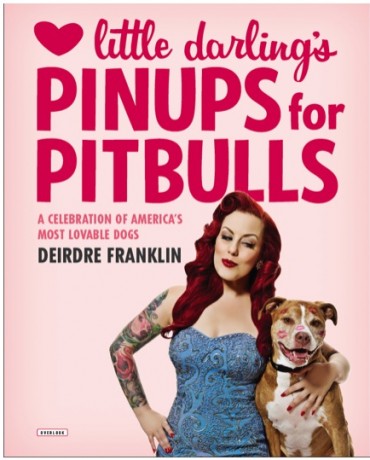 Welcome to the 244th episode of Our Hen House, featuring Deirdre "Little Darling" Franklin [transcript].
In today's episode, we are back with the banter and news that you know and love — and sometimes hate — us for. We'll chat about why Mariann is comparing herself to France, we'll squawk about famous pit bull puppies, and we'll ruminate on the power of imperfect activism.
Joining us today is Deirdre "Little Darling" Franklin, the brains and beauty behind the Pinups for Pit Bulls movement, and the author of the brand new book by the same name. Deirdre will talk to us about her breathtaking advocacy to change the world for our darling maligned four-foot friends, and why she went the pinup route.
All that, vegan banter, and of course, current events from the world of animal rights.

You can listen to our podcast directly on our website (beneath this paragraph!) or you can listen and subscribe on iTunes or Stitcher! Also, if you like what you hear, please rate it on iTunes and Stitcher, and don't forget to leave us a friendly comment! Of course, we would be thrilled if you would also consider making a donation, or becoming a member of our flock (especially if you're a regular listener). Any amount is hugely appreciated and Our Hen House is a 501(c)(3) nonprofit organization, so it's tax-deductible! You can also dedicate a podcast episode! Don't forget – we're reader and listener supported. Plus, we offer some fantastic thank you gifts for your donations. Lastly, we are excited to be able to offer you written transcriptions of our podcast interviews (beginning with Episode 188). Thank you for helping us create quality content, and for helping us bring you a new podcast episode each week! For a list of the news items we discuss in today's episode, and then some, take a look at the breaking news ticker at the top of the page, and also check out our list of archived news items. The Our Hen House theme song is written and sung by the incredible Michael Harren.  Special thanks to OHH Media Coordinator Alessandra Seiter for acting as the Associate Producer of the Our Hen House podcast!
"The assumption that animals are without rights, and the illusion that our treatment of them has no moral significance, is a positively outrageous example of Western crudity and barbarity. Universal compassion is the only guarantee of morality." ~Arthur Schopenhauer.