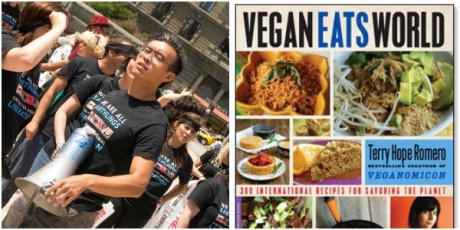 Welcome to the 245th episode of Our Hen House, featuring Wayne Hsiung [transcript], with a special review by Ethan Ciment and Michael Suchman.
On today's episode, we tell you about a dog on Broadway, a vegan Philly cheesesteak in Brooklyn (Marty's Vegan Fast Food!), a disappointing coffee outing, a new reclaimed piece of furniture that is changing the world for animals (we love Jim Tower!), and why we think Ewan McGregor should be vegan.
Joining us today is Wayne Hsiung, the force of nature behind Direct Action Everywhere, and a coordinator for Animal Liberationists of Color. Wayne will tell us why the slogan, "It's Not Food; It's Violence," is what he hopes people will begin to associate with the chain restaurant Chipotle.
For our review today, the Vegan Mos will be back — that's Ethan Ciment and Michael Suchman — with their take on Terry Hope Romero's cookbook, Vegan Eats World.
All that, vegan banter, and of course, current events from the world of animal rights.
BONUS! Be sure to check out some of Direct Action Everywhere's amazing work with these two representative videos: Gone But Not Forgotten and Cultivating…Violence.

You can listen to our podcast directly on our website (beneath this paragraph!) or you can listen and subscribe on iTunes or Stitcher! Also, if you like what you hear, please rate it on iTunes and Stitcher, and don't forget to leave us a friendly comment! Of course, we would be thrilled if you would also consider making a donation, or becoming a member of our flock (especially if you're a regular listener). Any amount is hugely appreciated and Our Hen House is a 501(c)(3) nonprofit organization, so it's tax-deductible! You can also dedicate a podcast episode! Don't forget – we're reader and listener supported. Plus, we offer some fantastic thank you gifts for your donations. Lastly, we are excited to be able to offer you written transcriptions of our podcast interviews (beginning with Episode 188). Thank you for helping us create quality content, and for helping us bring you a new podcast episode each week! For a list of the news items we discuss in today's episode, and then some, take a look at the breaking news ticker at the top of the page, and also check out our list of archived news items. The Our Hen House theme song is written and sung by the incredible Michael Harren.  Special thanks to OHH Media Coordinator Alessandra Seiter for acting as the Associate Producer of the Our Hen House podcast!
"We're under some gross misconception that we're a good species, going somewhere important, and that at the last minute we'll correct our errors and God will smile on us. It's delusion." ~Farley Mowat.