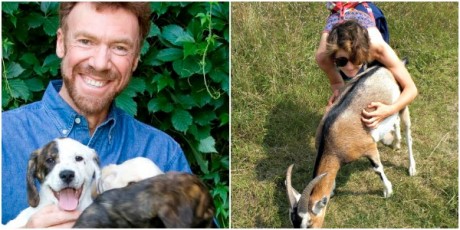 Welcome to the 265th episode of Our Hen House, featuring Michael Mountain, plus a review by Alessandra Seiter.
On today's episode, we will be joined by longtime animal activist Michael Mountain, who is the co-author of a new groundbreaking study of the basic psychology behind our destructive relationship to nonhuman animals.
Then, Our Hen House's Alessandra Seiter — also of the blog Chickpeas & Change — will give you a taste of her favorite vegan winter treats to eat (be sure to find these sweet treats for yourself at the links below!).
All that, vegan banter, and of course, current events from the world of animal rights.
Find Alessandra's fave vegan winter sweet treats at the following links:
1.) Butter Pecan Rum Balls from Chickpeas & Change
2.) Raw Persimmon Swirl Cheesecake, adapted from Ricki Heller
3.) Holiday Macarons & Italian Rainbow Cookies from Sweet Maresa's

You can listen to our podcast directly on our website (beneath this paragraph!) or you can listen and subscribe on iTunes or Stitcher! Also, if you like what you hear, please rate it on iTunes and Stitcher, and don't forget to leave us a friendly comment! Of course, we would be thrilled if you would also consider making a donation, or becoming a member of our flock (especially if you're a regular listener). Any amount is hugely appreciated and Our Hen House is a 501(c)(3) nonprofit organization, so it's tax-deductible! You can also dedicate a podcast episode! Don't forget – we're reader and listener supported. Plus, we offer some fantastic thank you gifts for your donations. Thank you for helping us create quality content, and for helping us bring you a new podcast episode each week! The Our Hen House theme song is written and sung by the incredible Michael Harren.  Special thanks to OHH Media Coordinator Alessandra Seiter for acting as the Associate Producer of the Our Hen House podcast!
"Grab the broom of anger and drive off the beast of fear."  ~Zora Neale Hurston.