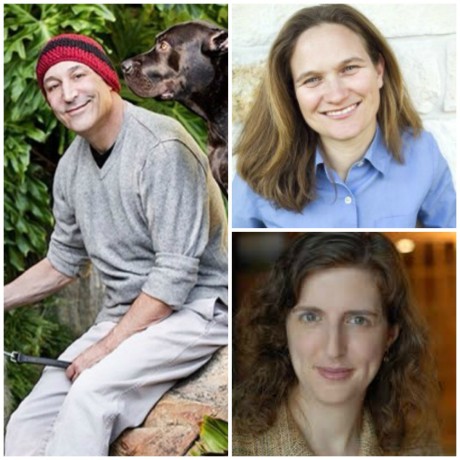 Welcome to the 271st episode of Our Hen House, featuring interviews with Nora Kramer and Piper Hoffman, and a special tribute to Sam Simon by Ari Solomon.
On today's episode, we squawk about the very best vegan mac-and-cheese there is, where veganism and House of Cards intersect (and why that's amusing), and — for our "Rising Anxieties" segment — we'll dissect why one hilarious comedian's attempt at confronting his own hypocrisy about meat-eating is, indeed, a reflection of his own "Rising Anxieties."
Ari Solomon will then join us for a very beautiful look inside the life of his late friend Sam Simon, an ambassador for animals and an avid animal rights activist who left us just last week. Don't miss this inspiring story; it will surely cause anyone who cares about changing the world for animals to step up their game, and certainly inspired us to do so.
(Also be sure to watch filmmaker Mikko Alanne's short video tribute to Sam, and Fusion TV's documentary about this amazing activist's life — Rebel With a Cause.)
For our feature interview, we'll be joined by Nora Kramer, the founder of Youth Empowered Action (YEA) Camp — a camp for social justice. Nora will tell us all about that project, and will also let us in on her new role with the Factory Farming Awareness Coalition.
Then, pundit Piper Hoffman will give us the skinny on Columbia Law School's recent event — sponsored by the Animal Legal Defense Fund and the Center for Biological Diversity — which took on the hefty subject of overpopulation, and what that has to do with animal agriculture. Piper will also talk with us about the new proposed U.S. Dietary Guidelines, which include sustainability and environmental considerations, and promote plant-based eating. Big Ag is trying to pressure the government into backpedaling to the bad old days of ignoring the environmental impact of eating animals. You can make your voice heard about it by submitting a comment to the government by April 8. (Please note: The correct web address for making public comments on the new proposed U.S. Dietary Guidelines that Piper Hoffman mentions in the podcast is http://health.gov/dietaryguidelines/.)
All that, vegan banter, and of course, current events from the world of animal rights.

You can listen to our podcast directly on our website (beneath this paragraph!) or you can listen and subscribe on iTunes or Stitcher! Also, if you like what you hear, please rate it on iTunes and Stitcher, and don't forget to leave us a friendly comment! Of course, we would be thrilled if you would also consider making a donation, or becoming a member of our flock (especially if you're a regular listener). Any amount is hugely appreciated and Our Hen House is a 501(c)(3) nonprofit organization, so it's tax-deductible! You can also dedicate a podcast episode! Don't forget – we're reader and listener supported. Plus, we offer some fantastic thank you gifts for your donations. Thank you for helping us create quality content, and for helping us bring you a new podcast episode each week! The Our Hen House theme song is written and sung by the incredible Michael Harren.  Special thanks to OHH Media Coordinator Alessandra Seiter for acting as the Associate Producer of the Our Hen House podcast!
"It is not knowledge we lack. What is missing is the courage to understand what we know and to draw conclusions." ~Sven Lindqvist.