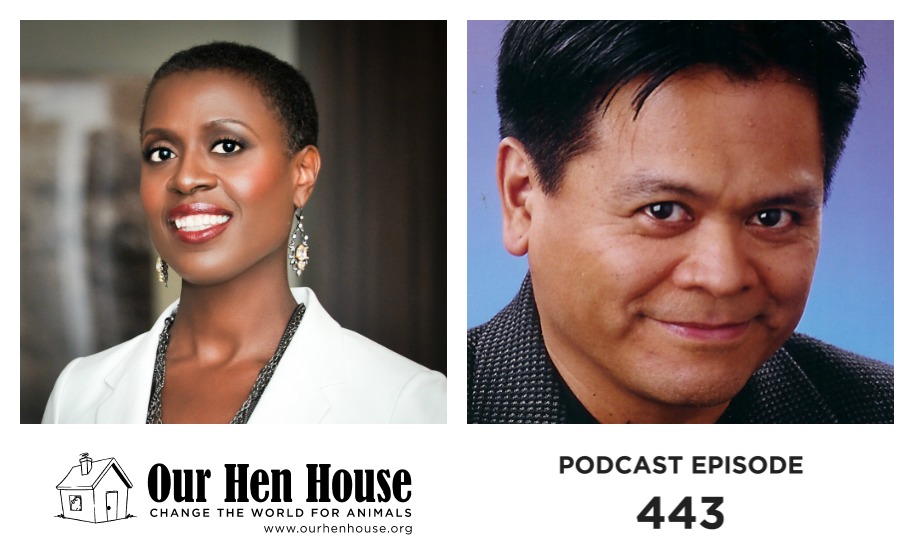 Mariann talks to Tracye McQuirter about her new book, Ageless Vegan, co-written with her mother Mary. Tracye McQuirter, MPH, was named a national food hero changing the way America eats for the better by Vegetarian Times and her first book, By Any Greens Necessary, established her as one of the most influential vegans in the country. Tracye directed the nation's first federally funded vegan nutrition program and was a nutrition advisor for the Black Women's Health Imperative. She recently created the first-of-its-kind, free African American Vegan Starter Guide in partnership with Farm Sanctuary. Her work has been featured in the New York Times, the Washington Post, Essence, Bon Appetit, Ebony, VegNews, the Huffington Post, and more.

Then, Jasmin talks to journalist Emil Guillermo, host of the official PETA Podcast. They talk about his journey into animal journalism, the connections between diversity and animal activism, and the impetus behind PETA's decision to start a podcast. Emil Guillermo wrote for almost 15 years his "Amok" column for AsianWeek, which was the largest English language Asian American newsweekly in the nation. "Amok" was considered the most widely-read column on Asian American issues in the U.S. His thoughtful and provocative social commentaries have appeared in print in the San Francisco Chronicle, SFGate.com, San Francisco Examiner, USA Today, Honolulu Star Bulletin, Honolulu Advertiser, Los Angeles Times, Washington Post, and in syndication throughout the country. Guillermo's journalistic career began in television and radio broadcasting. At National Public Radio, he was the first Asian American male to anchor a regularly scheduled national news broadcast when he hosted "All Things Considered" from 1989-1991. During his watch, major news broke, including the violence in Tiananmen Square, the fall of the Berlin Wall, and the end of dictatorships in Romania and Panama. From Washington, Guillermo hosted the shows that broke the news. As a television journalist, his award-winning reports and commentaries have appeared on NBC, CNN, and PBS. He was a reporter in San Francisco, Dallas, and Washington, D.C.
Also, Jasmin and Mariann talk about Jasmin's experiences at the recent Animal Rights Conference. We've also got News and Rising Anxieties.

As always, the award-winning weekly Our Hen House podcast is hosted by Mariann Sullivan and Jasmin Singer.


This episode is brought to you in part through the generosity of A Well-Fed World. A Well-Fed World provides the means for change by empowering individuals, social justice organizations, and political decision makers to embrace the benefits of plant-based foods and farming. Learn more at awfw.org.
You can listen to our podcast directly on our website, or subscribe on iTunes or your favorite podcatcher! Also, if you like what you hear, please rate it and leave us a comment on iTunes! Of course, we would be thrilled if you would also consider making a donation, or becoming a member of our flock (especially if you're a regular listener). Any amount is hugely appreciated, and Our Hen House is a 501(c)(3) nonprofit organization, so it's tax-deductible! Thank you for helping us create quality content, and for helping us bring you a new podcast episode each week!
The Our Hen House theme song is written and sung by the incredible Michael Harren, who is also OHH's Director of Communications! Don't forget to tune into Our Hen House's other two podcasts: The Teaching Jasmin How to Cook Vegan Podcast, and The Animal Law Podcast.