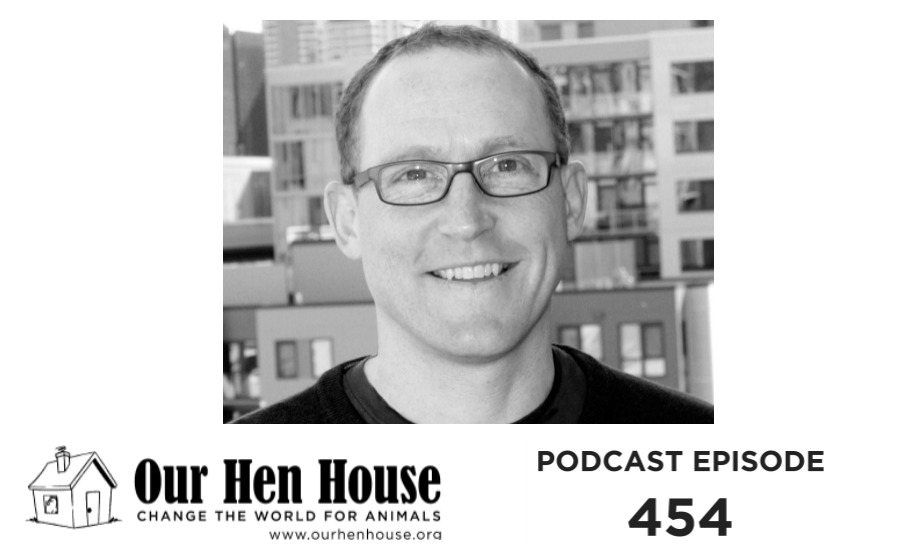 First, Jasmin gives us a report from the Mercy For Animals Hidden Heroes Gala featuring interviews with Alicia Silverstone, Our Hen House episode 189 guest Emily Deschanel, Elliot Knight (Once Upon A Time), Evanna Lynch (the Harry Potter film series), and Maggie Q (Nikita, Mission Impossible III).

Then, Jasmin talks to author John Yunker about his new anthology, Writing For Animals, how to effectively include animals and animal rights issue in literature, and why writers have so much difficulty honoring the realities of animal activism. John Yunker is a writer of plays, short stories and novels focused on human/animal relationships. He is co-founder of Ashland Creek Press, a vegan-owned publisher devoted to environmental and animal rights literature. He is also author of the novel The Tourist Trail and the children's book Bird Words. His full-length play Meat the Parents was a finalist at the Centre Stage New Play Festival (South Carolina) and semi-finalist in the AACT new play contest. Species of Least Concern was a finalist in the 2016 Mountain Playhouse Comedy Festival. His short play, Little Red House, was published in the literary journal Mason's Road, and produced by the Studio Players Theatre in Lexington, Kentucky. In 2017, the short play Of Mice and Marines was workshopped and given a staged reading at the ATHE (Association for Theatre in Higher Education) conference in Las Vegas. His short stories have been published by literary journals such as Phoebe, Qu, Flyway, and Antennae.
We've also got News and Rising Anxieties from Mariann.

This week's episode is brought to you in part by V-Dog, and the Animal Law Conference.

As always, the award-winning weekly Our Hen House podcast is hosted by Mariann Sullivan and Jasmin Singer.


This episode is brought to you in part through the generosity of A Well-Fed World. A Well-Fed World provides the means for change by empowering individuals, social justice organizations, and political decision makers to embrace the benefits of plant-based foods and farming. Learn more at awfw.org.
You can listen to our podcast directly on our website, or subscribe on iTunes or your favorite podcatcher! Also, if you like what you hear, please rate it and leave us a comment on iTunes! Of course, we would be thrilled if you would also consider making a donation, or becoming a member of our flock (especially if you're a regular listener). Any amount is hugely appreciated, and Our Hen House is a 501(c)(3) nonprofit organization, so it's tax-deductible! Thank you for helping us create quality content, and for helping us bring you a new podcast episode each week!
The Our Hen House theme song is written and sung by the incredible Michael Harren, who is also OHH's Director of Communications! Don't forget to tune into Our Hen House's other two podcasts: The Teaching Jasmin How to Cook Vegan Podcast, and The Animal Law Podcast.