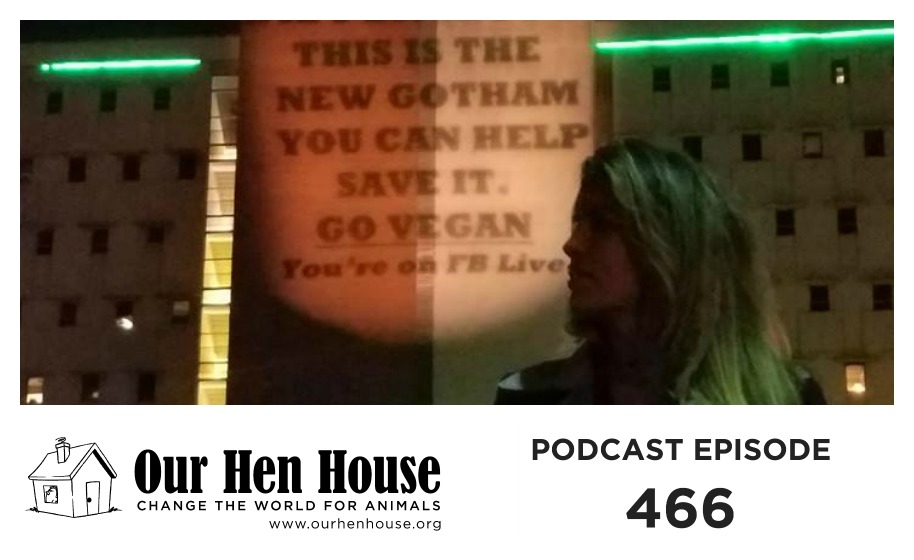 This week, Jasmin talks to  Vegan Batgirl (aka Connie S.),  an activist whose most notable stunt, the Vegan Batman Light, is a Bat Signal that has been shone across the USA on giant blank walls along-side of major freeways in LA, on the Staple Center, on Las Vegas Hotels, in Arizona near the Talking Stick Arena and much more. They also talk about how people react to the light. She has had over 60 police interactions, as well as having some public people try to run off with her equipment and even threaten to run over her with their vehicle. On the positive side, she draws in many great conversations with people that see the message and helps them to realize that they never thought about animal suffering. Additionally, they discuss what makes effective activism and Connie's recently-launched Vegan Justice League Lobbying Group which is working to fast-track change and to focus on reforming the next Farm Bill by 2022/23. You can see more of her work on her Facebook page and her YouTube page.
In the intro to this epidsode, Mariann and Jasmin talk about the impact of fundraising on animal welfare, some holiday season reflections, and Mariann's recent talk at Main Street Vegan Academy. Lastly, Mariann brings us some Rising Anxieties.

This week's episode brought to you in part by Sunday Scaries Vegan AF CBD gummies for anxiety.
As always, the award-winning weekly Our Hen House podcast is hosted by Mariann Sullivan and Jasmin Singer.


This episode is brought to you in part through the generosity of A Well-Fed World. A Well-Fed World provides the means for change by empowering individuals, social justice organizations, and political decision makers to embrace the benefits of plant-based foods and farming. Learn more at awfw.org.
You can listen to our podcast directly on our website, or subscribe on iTunes or your favorite podcatcher! Also, if you like what you hear, please rate it and leave us a comment on iTunes! Of course, we would be thrilled if you would also consider making a donation, or becoming a member of our flock (especially if you're a regular listener). Any amount is hugely appreciated, and Our Hen House is a 501(c)(3) nonprofit organization, so it's tax-deductible! Thank you for helping us create quality content, and for helping us bring you a new podcast episode each week!
The Our Hen House theme song is written and sung by the incredible Michael Harren, who is also OHH's Director of Communications! Don't forget to tune into Our Hen House's other two podcasts: The Teaching Jasmin How to Cook Vegan Podcast, and The Animal Law Podcast.