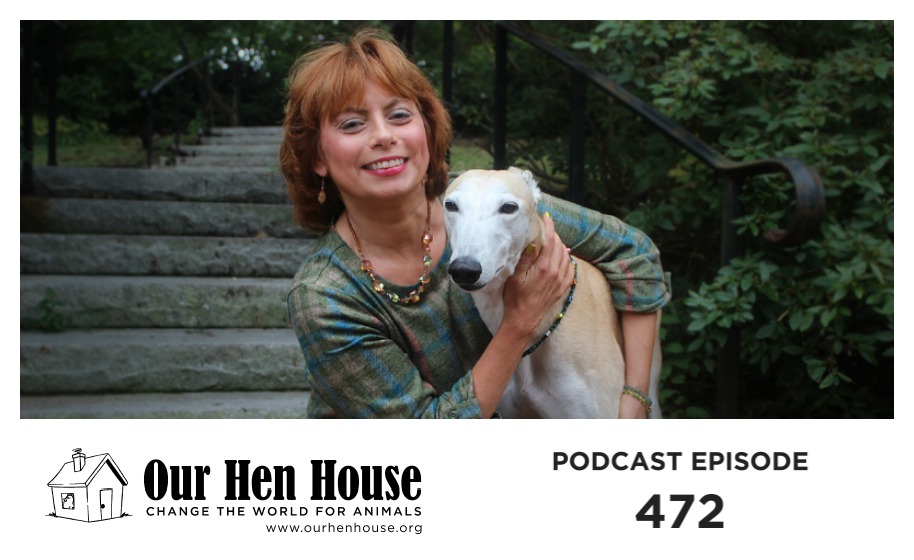 This week, Mariann talks to Christine Dorchak about her recent victory to outlaw greyhound racing in Florida. She tells us about the history about greyhound racing in Florida and the horrible conditions that racing dogs are subjected to, the victory of amendment 13 and the celebrities and high-profile organizations that helped get it passed, the history and mission of Grey2K.
Christine Dorchak is the co-founder, president and general counsel of greyhound protection group GREY2K USA Worldwide A long-time vegan and long distance runner, she works to pass laws to protect greyhounds and promote the adoption of ex-racers across the globe. Since its formation in 2001, GREY2K has helped to close down dozens of American dog tracks and prevented the expansion of commercial dog racing to countries such as South Africa, Jamaica and the Philippines. For more information, go to grey2kusa.org or visit them on Facebook or Twitter.
In the intro to this episode, Mariann and Jasmin discuss the greatness of the air fryer (and JL Fields' book) and what some recent disappointing and out of touch "vegan" scenes on Netflix's Grace and Frankie say about the mainstream status of animal advocacy. Later in the episode, Mariann brings us some Rising Anxieties.

This week's episode brought to you in part by Sunday Scaries Vegan AF CBD gummies for anxiety, and the American Pets Alive! Conference.
As always, the award-winning weekly Our Hen House podcast is hosted by Mariann Sullivan and Jasmin Singer.


This episode is brought to you in part through the generosity of A Well-Fed World. A Well-Fed World provides the means for change by empowering individuals, social justice organizations, and political decision makers to embrace the benefits of plant-based foods and farming. Learn more at awfw.org.
You can listen to our podcast directly on our website, or subscribe on iTunes or your favorite podcatcher! Also, if you like what you hear, please rate it and leave us a comment on iTunes! Of course, we would be thrilled if you would also consider making a donation, or becoming a member of our flock (especially if you're a regular listener). Any amount is hugely appreciated, and Our Hen House is a 501(c)(3) nonprofit organization, so it's tax-deductible! Thank you for helping us create quality content, and for helping us bring you a new podcast episode each week!
The Our Hen House theme song is written and sung by the incredible Michael Harren, who is also OHH's Director of Communications! Don't forget to tune into Our Hen House's other two podcasts: The Teaching Jasmin How to Cook Vegan Podcast, and The Animal Law Podcast.