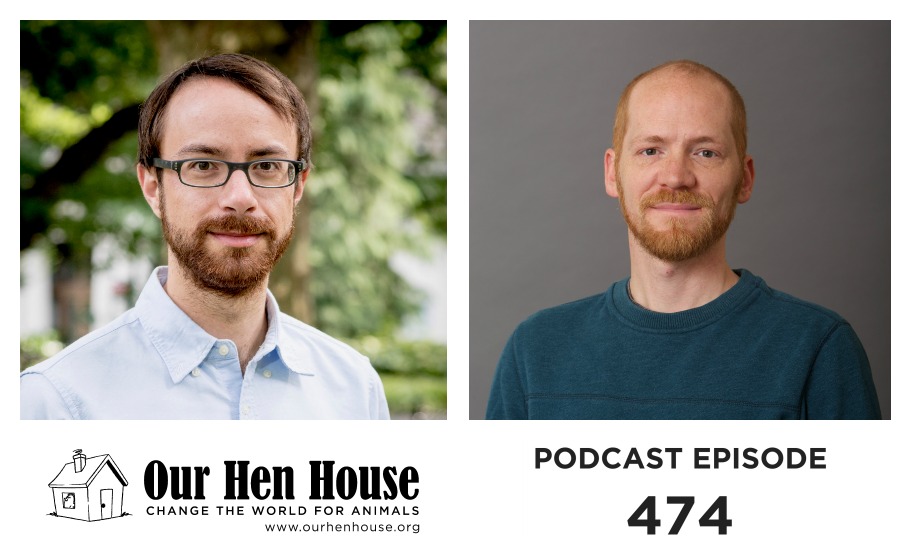 This week, Mariann talks to Christopher Schlottmann and Jeff Sebo from New York University about their new book, Food, Animals and Environment: An Ethical Approach. It's the first textbook at the intersection of food, ethics and the environment, with an ethical emphasis but incorporating extensive social and natural sciences. They discuss their animal- and environment-related activities at NYU, why writing about food, animals and the environment matters, and the scale of environmental impact and animal suffering due to animal agriculture.
Christopher Schlottmann is Clinical Associate Professor, Associate Chair, Director of Undergraduate Studies, and Global Curriculum Coordinator in the Department of Environmental Studies at New York University. His research is grounded in philosophical analysis of a variety of environmental topics. His current projects concern the ethical dimensions at the intersection of food, animals and the environment. His current project is a scholarly monograph on the ethics of food, focusing on the environmental and animal dimensions. It includes quantitative and qualitative assessment of the environmental impacts of foods; a philosophical survey of the place of animals in both nature and food systems; an analysis of rubrics for understanding the ethics and impacts of food, including naturalness, purity, and dispositions towards modernity, technology and industry; a philosophical argument detailing an environmental ethic of domesticated, non-wild space; a critical analysis of the framing of social change around food and environment as personal, privatized responsibility (rather than as citizenship); and solutions to environmental problems related to food. He has previously published Environment and Society: A Reader (NYU Press, 2017) with Dale Jamieson, Colin Jerolmack, Anne Rademacher, and Maria Damon, Reflecting on Nature: Readings in Environmental Ethics and Philosophy (Oxford University Press, 2012), with Dale Jamieson and Lori Gruen, and The Conceptual Foundations of Environmental Education (Peter Lang, 2012).
Jeff Sebo is Clinical Assistant Professor of Environmental Studies, Affiliated Professor of Bioethics, Medical Ethics, and Philosophy, and Director of the Animal Studies M.A. Program at New York University. He works primarily on bioethics, animal ethics, and environmental ethics. His co-authored books Chimpanzee Rights and Food, Animals, and the Environment are currently available from Routledge, and his book Why Animals Matter for Climate Change is currently in contract with Oxford University Press. In addition to his academic work, Jeff is on the Board of Directors at Animal Charity Evaluators, the Board of Directors at Minding Animals International, the Advisory Board at Sentience Institute, and the Executive Committee at the Animals & Society Institute.
In the intro to this episode, Mariann and Jasmin debate whether or not people should have dogs, and Jasmin announces some great news. Lastly, Mariann brings us some Rising Anxieties. More info in the show notes!

This week's episode brought to you in part by Sunday Scaries Vegan AF CBD gummies for anxiety, and the American Pets Alive! Conference.
As always, the award-winning weekly Our Hen House podcast is hosted by Mariann Sullivan and Jasmin Singer.


This episode is brought to you in part through the generosity of A Well-Fed World. A Well-Fed World provides the means for change by empowering individuals, social justice organizations, and political decision makers to embrace the benefits of plant-based foods and farming. Learn more at awfw.org.
You can listen to our podcast directly on our website, or subscribe on iTunes or your favorite podcatcher! Also, if you like what you hear, please rate it and leave us a comment on iTunes! Of course, we would be thrilled if you would also consider making a donation, or becoming a member of our flock (especially if you're a regular listener). Any amount is hugely appreciated, and Our Hen House is a 501(c)(3) nonprofit organization, so it's tax-deductible! Thank you for helping us create quality content, and for helping us bring you a new podcast episode each week!
The Our Hen House theme song is written and sung by the incredible Michael Harren, who is also OHH's Director of Communications! Don't forget to tune into Our Hen House's other two podcasts: The Teaching Jasmin How to Cook Vegan Podcast, and The Animal Law Podcast.