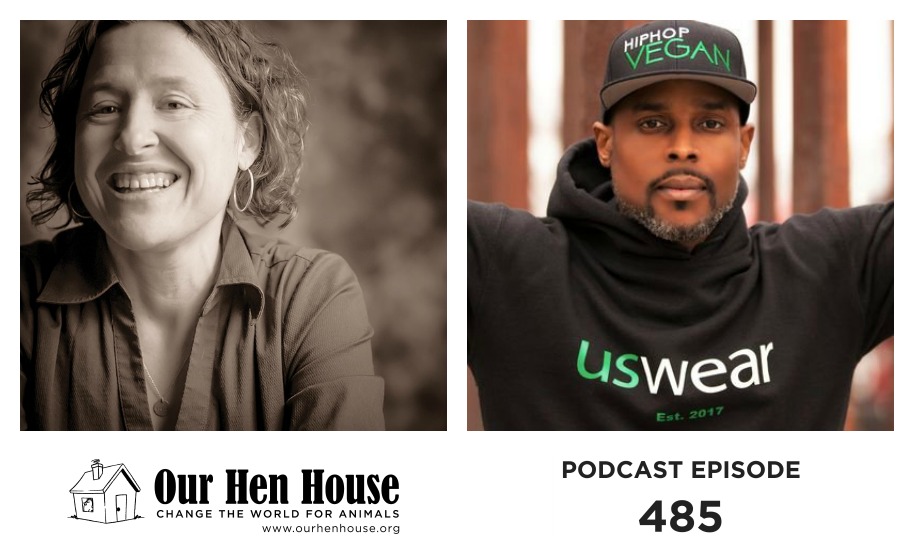 This week, Jasmin talks to poet Gretchen Primack about her new book of poetry Visiting Days and her experience with writing about and working with incarcerated people. She also reads us two powerful and moving poems. Then, they are joined by author Intelligent Tarref Allah to discuss how he became a vegan in prison 19-years ago and lived as a vegan in prison for 12 years. He also talks about veganism as self-development for a person who was once immersed in the criminal world.
Gretchen Primack is a poet and educator living in New York's Hudson Valley. She has taught and/or administrated with prison education programs (mostly college) for ten years. She's the author of three poetry collections, Visiting Days (forthcoming from Willow Books), Kind (Post Traumatic Press), and Doris' Red Spaces (Mayapple Press), and a chapbook, The Slow Creaking of Planets (Finishing Line 2007). She co-wrote The Lucky Ones: My Passionate Fight for Farm Animals with Woodstock Farm Animal Sanctuary co-founder Jenny Brown (Penguin Avery 2012). Her poetry publication credits include The Paris Review, Prairie Schooner, Ploughshares, FIELD, Poet Lore, The Massachusetts Review, The Antioch Review, New Orleans Review, Rhino, Tampa Review, and many others, and her work has been chosen for several anthologies, including Best New Poets 2006. Her poem "You Are a Prince," published in Ploughshares, was featured on PoetryDaily.org. Gretchen is a passionate advocate for the rights and welfare of non-human animals and lives with several of them, along with a beloved human named Gus.Intelligent Allah is a bestselling author and editor known by family and friends as Intell, and he also writes under the pen name Vance Burrows in honor of his deceased friend Boo (Vance Burrows). Intelligent was a poet and aspiring rapper from Brooklyn until he was incarcerated in 1994. While serving 18 1/2 years in prison, Intelligent completed various writing courses and served on several editorial boards of prison newsletters. He became a published writer and editor. Intelligent is editor of over a dozen fiction and nonfiction books, including Wahida Clark's New York Times bestsellers Justify My Thug and Payback Ain't Enough. His editorials, essays and articles have been published online, in magazine, newspaper and in books. He has also been contracted for producing advertising copy, movie treatments and other writings. Intelligent is a also a graphic artist who has designed flyers and logos for companies and nonprofits like IBI Productions and Rehabilitation Through The Arts respectively. Learn more about him on Linkedin, Twitter (@intellwriter) and Facebook (Vance Burrows and Lickin' License Group).
After the interview, Mariann brings us some Rising Anxieties. More info in the show notes!
As always, the award-winning weekly Our Hen House podcast is hosted by Mariann Sullivan and Jasmin Singer.


This episode is brought to you in part through the generosity of A Well-Fed World. A Well-Fed World provides the means for change by empowering individuals, social justice organizations, and political decision makers to embrace the benefits of plant-based foods and farming. Learn more at awfw.org.
You can listen to our podcast directly on our website, or subscribe on iTunes or your favorite podcatcher! Also, if you like what you hear, please rate it and leave us a comment on iTunes! Of course, we would be thrilled if you would also consider making a donation, or becoming a member of our flock (especially if you're a regular listener). Any amount is hugely appreciated, and Our Hen House is a 501(c)(3) nonprofit organization, so it's tax-deductible! Thank you for helping us create quality content, and for helping us bring you a new podcast episode each week!
The Our Hen House theme song is written and sung by the incredible Michael Harren, who is also OHH's Director of Communications! Don't forget to tune into Our Hen House's other two podcasts: The Teaching Jasmin How to Cook Vegan Podcast, and The Animal Law Podcast.