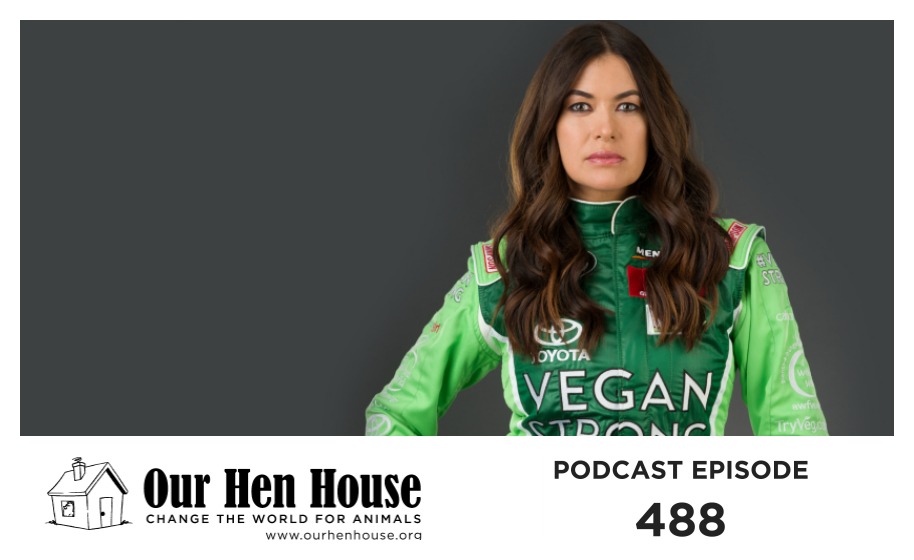 This week, Jasmin talks to Leilani Münter about serving vegan burgers  to racing fans at Daytona and the incredible exposure she got for her Vegan race car. She also talks about her decision to retire from racing, and why human overpopulation is an animal rights issue.

Leilani Münter is a biology graduate, race car driver and environmental activist. Discovery's Planet Green named her the #1 eco athlete in the world, ELLE Magazine awarded her their Genius Award, and Sports Illustrated named her one of the top ten female race car drivers in the world. In 61 starts Leilani has scored 9 top five and 21 top ten finishes. Since 2007, Leilani has been adopting endangered rainforest to offset the carbon footprint of her race car. So far she has protected over 1500 acres of rainforest. She uses her race car to spread environmental awareness and animal rights among millions of race fans in the US. Leilani sits on the board of EarthxFilm, Empowered by Light, and the Oceanic Preservation Society, the Academy Award winning filmmakers behind "The Cove." She is featured in their 2015 Emmy-nominated documentary "Racing Extinction." Leilani is also a patron of Population Matters and an ambassador of Ric O'Barry's Dolphin Project. Leilani is vegan, her personal car is an electric Tesla Model S which she charges with solar power. Leilani's motto is: never underestimate a vegan hippie chick with a race car.
In the intro to this episode, Jasmin and Mariann talk about a life-changing addition to Jasmin's coffee routine, focusing on the big picture of changing the world for animals instead of creating a toxic environment in the animal rights movement, and Jasmin's new job! After the interview, Mariann brings us some Rising Anxieties. More info in the show notes!
As always, the award-winning weekly Our Hen House podcast is hosted by Mariann Sullivan and Jasmin Singer.


This episode is brought to you in part through the generosity of A Well-Fed World. A Well-Fed World provides the means for change by empowering individuals, social justice organizations, and political decision makers to embrace the benefits of plant-based foods and farming. Learn more at awfw.org.
You can listen to our podcast directly on our website, or subscribe on iTunes or your favorite podcatcher! Also, if you like what you hear, please rate it and leave us a comment on iTunes! Of course, we would be thrilled if you would also consider making a donation, or becoming a member of our flock (especially if you're a regular listener). Any amount is hugely appreciated, and Our Hen House is a 501(c)(3) nonprofit organization, so it's tax-deductible! Thank you for helping us create quality content, and for helping us bring you a new podcast episode each week!
The Our Hen House theme song is written and sung by the incredible Michael Harren, who is also OHH's Director of Communications! Don't forget to tune into Our Hen House's other two podcasts: The Teaching Jasmin How to Cook Vegan Podcast, and The Animal Law Podcast.