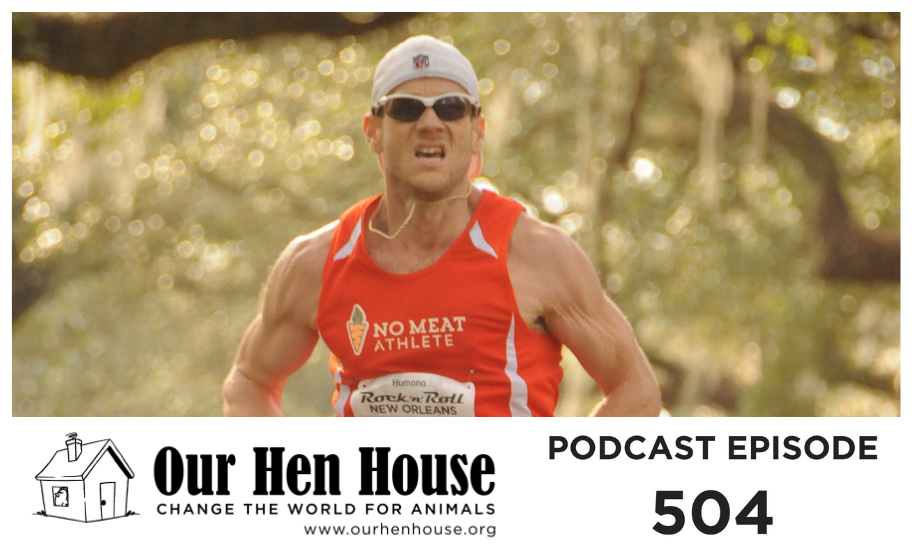 This week, Jasmin speaks with ultra-athlete Josh LaJaunie about becoming a vegan after years of being surrounded by hunting and a diet full of animals, how his desire to change his health inspired a change in attitude about food, and how he hopes to inspire others with his new book, Sick to Fit.
A passionate advocate for eating plants and running, Josh LaJaunie has been featured on The Today Show, Good Morning America, People magazine, Runner's World magazine, and the Rich Roll Podcast. Josh grew up in Thibodaux, LA, and proudly embraced all aspects of his culture: hunting, fishing, playing high school football, rooting for the Saints, and eating and drinking to excess. In his early 30s, Josh tipped the scales at well over 400 pounds. As more and more friends and family members suffered and died too young from chronic diseases caused by their diet and lifestyle, Josh woke up and decided to turn his life around.
Through pragmatic experiments, Josh explored weightlifting, Atkins, paleo, and many other approaches to weight loss. When he began running, the first hundred pounds melted away like magic. When he adopted a whole food, plant-based diet, the second hundred disappeared. At under 200 pounds, Josh discovered a passion and talent for running, one that led him to appear on the cover of Runner's World magazine in December, 2016. As his family, friends, and wider community observed the stunning changes in Josh, he became an accidental guide and mentor to others who wanted to emulate his success.
At WellStart Health, Josh spends most of his waking moments pounding the drum of plants and running as a way to achieve a natural, non-diseased, authentic human existence; and swinging a giant sledge hammer at the current health paradigm that ignores lifestyle and simply manages disease once it arises.
In the intro to this episode Mariann talks about climate anxiety, how it relates to animal suffering, and why the coping strategies around it are similar to the anti-nuclear movement.She also talks about how you can apply for the 2019 Siskiyou Prize for New Environmental Literature, sponsored by Ashland Creek Press and the Sitka Center for Art and Ecology. Later in the episode, Mariann brings us more Rising Anxieties.
As always, the award-winning weekly Our Hen House podcast is hosted by Mariann Sullivan and Jasmin Singer.
This week's episode is brought to you in part through a generous donation from BetterHelp. Use the promo code "henhouse" for a listener discount on BetterHelp's services.


This episode is brought to you in part through the generosity of A Well-Fed World. A Well-Fed World provides the means for change by empowering individuals, social justice organizations, and political decision makers to embrace the benefits of plant-based foods and farming. Learn more at awfw.org.
Our Hen House is now part of the iROAR podcast network.
You can listen to our podcast directly on our website, or subscribe on Apple Podcasts or your favorite podcatcher! Also, if you like what you hear, please rate it and leave us a comment on Apple Podcasts! Of course, we would be thrilled if you would also consider making a donation, or becoming a member of our flock (especially if you're a regular listener). Any amount is hugely appreciated, and Our Hen House is a 501(c)(3) nonprofit organization, so it's tax-deductible! Thank you for helping us create quality content, and for helping us bring you a new podcast episode each week!
The Our Hen House theme song is written and sung by the incredible Michael Harren, who is also OHH's Director of Communications! Don't forget to tune into Our Hen House's other two podcasts: The Teaching Jasmin How to Cook Vegan Podcast, and The Animal Law Podcast.