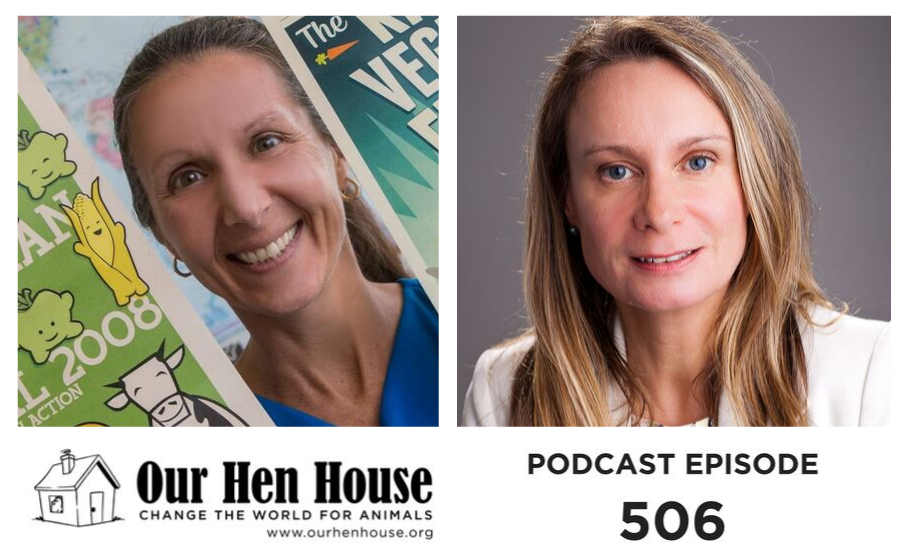 This week we are featuring two interviews about investing that we hope you'll find informative.
First, Jasmin talks to Brenda Morris of Humane Investing about the differences between financial planning and asset management, how ethically-conscious investors can utilize their ethics when choosing where to invest, and the ways that people can use their money to impact the decisions of corporations.
Brenda A. Morris is the founder and CEO of Humane Investing, LLC (www.humaneinvesting.com ), a fee-only financial firm dedicated to helping activists make money while making a difference.  She has volunteered with the Vegetarian Society of Richmond for two decades and has been a coordinator of the Richmond VegFest since 2003.  One of her favorite hobbies is giving out samples of amazing vegan food at non-veg events and watching people who have never considered going vegan consider it for the first time.   While she encourages anyone who cares about animals to invest in companies that do not support, cause, or contribute to animal exploitation and suffering, she hopes this "specialization" isn't needed much longer as more and more companies move towards incorporating cruelty-free practices into their business models.
Then, Mariann talks to Claire Smith of Beyond Investing about the U.S. Vegan Climate Index and how it helps identify ethically-friendly investment opportunities, how this work impacts climate change, and the challenges around getting people to invest in vegan companies.
Claire is the founder of humane investment platform Beyond Investing. She is a vegan and environmentalist with 34 years' experience in finance and investment at top-tier banks and investment houses, including UBS and Albourne Partners. Beyond Investing creates investment programs designed for animal advocates and climate-conscious investors in both public listed equity markets and venture capital. Beyond Investing is the architect of the US Vegan Climate Index, a stock index which screens out all animal exploitation and fossil fuel from a US market benchmark, and the sponsor of the US Vegan Climate Exchange Traded Fund (ETF). Beyond Investing focuses on early stage and growth companies that provide vegan, plant-based and cruelty-free products and services. Based in Switzerland, Claire is the founder of Beyond Cruelty Foundation, formed to campaign for zero animal exploitation and to fund safe havens for animals, which will also receive a portion of profits of companies under the Beyond Investing umbrella. Together with IT strategist Dhanesh Kothar, Claire co-founded the Beyond Animal integrated digital platform, which aims to accelerate the growth of the global vegan economy.
Later in the episode, Mariann brings us more Rising Anxieties.
As always, the award-winning weekly Our Hen House podcast is hosted by Mariann Sullivan and Jasmin Singer.
This week's episode is brought to you in part through a generous donation from BetterHelp. Use the promo code "henhouse" for a listener discount on BetterHelp's services.


This episode is brought to you in part through the generosity of A Well-Fed World. A Well-Fed World provides the means for change by empowering individuals, social justice organizations, and political decision makers to embrace the benefits of plant-based foods and farming. Learn more at awfw.org.
Our Hen House is now part of the iROAR podcast network.
You can listen to our podcast directly on our website, or subscribe on Apple Podcasts or your favorite podcatcher! Also, if you like what you hear, please rate it and leave us a comment on Apple Podcasts! Of course, we would be thrilled if you would also consider making a donation, or becoming a member of our flock (especially if you're a regular listener). Any amount is hugely appreciated, and Our Hen House is a 501(c)(3) nonprofit organization, so it's tax-deductible! Thank you for helping us create quality content, and for helping us bring you a new podcast episode each week!
The Our Hen House theme song is written and sung by the incredible Michael Harren, who is also OHH's Director of Communications! Don't forget to tune into Our Hen House's other two podcasts: The Teaching Jasmin How to Cook Vegan Podcast, and The Animal Law Podcast.