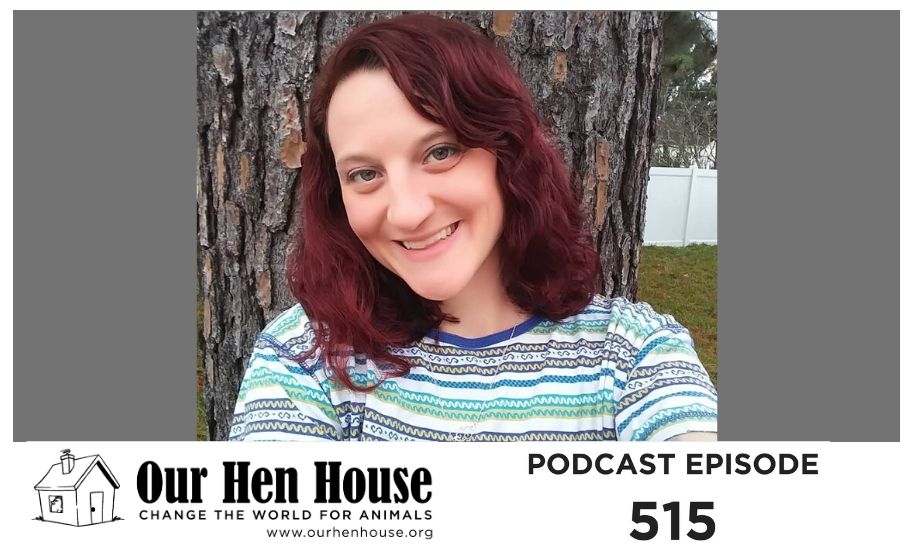 This week Jasmin talks to Laura Lee Cascada of Compassion Over Killing about her debut novel, Dellie's Run, the story of a girl who dreams of escaping the confines of her prison walls and becoming a baseball player. She tells us what brought her to writing fiction and why she chose to not make the novel an overtly animal-rights story, and she shares her tips and advice for self-publishing your book. Laura also shares with us some updates on the incredible work that Compassion Over Killing is doing.
Laura Lee Cascada is a coastal Virginia-based writer and advocate. For over a decade, Laura has worked at nonprofits to protect animals and our world, including in her current role as the Senior Director of Campaigns & Outreach with Compassion Over Killing (where she works to make vegan eating more accessible at chains like Subway and Dunkin' and improve the lives of farmed animals nationwide). She is the founder of Plight of the Hermies, a grassroots campaign advocacy for wild hermit crab freedom, as well The Every Animal Project, a collection of photographs and awe-inspiring stories of animals around the globe. She published her debut novel, Dellie's Run, in June 2019, highlighting one being's remarkable journey to freedom through a big dream: baseball. Laura also manages PR for the annual Hampton Roads VegFest, and she has a master's degree in environmental policy from the Johns Hopkins University. In her free time, she masquerades as a land-locked mermaid, using her Vegan Mermaid Warrior Instagram account as a hub for her advocacy for sea life and other animals.
In the intro to the show, Jasmin and Mariann talk about answering the question of how we come to care about animals, and the preposterous Burger King law suit and whether the person bringing it is actually vegan. Later in the episode, Mariann brings us Rising Anxieties about vegan parents, PETA pig farm investigations, and plant-based protein advice for meat and dairy farmers.
We are now in our end of year matching period, so every donation you make between now and December 31st is doubled! If you've been thinking of making a donation to Our Hen House, or renewing an annual donation, do so today.
As always, the award-winning weekly Our Hen House podcast is hosted by Mariann Sullivan and Jasmin Singer.
This week's episode is brought to you in part through a generous donation from OSEA Malibu: the original plant-based, results-driven skincare line. Go to oseamalibu.com/ourhenhouse to receive $10 off your first purchase of $50! Offer will automatically be applied to your cart at checkout.


This episode is brought to you in part through the generosity of A Well-Fed World. A Well-Fed World provides the means for change by empowering individuals, social justice organizations, and political decision makers to embrace the benefits of plant-based foods and farming. Learn more at awfw.org.
Our Hen House is now part of the iROAR podcast network.
You can listen to our podcast directly on our website, or subscribe on Apple Podcasts or your favorite podcatcher! Also, if you like what you hear, please rate it and leave us a comment on Apple Podcasts! Of course, we would be thrilled if you would also consider making a donation, or becoming a member of our flock (especially if you're a regular listener). Any amount is hugely appreciated, and Our Hen House is a 501(c)(3) nonprofit organization, so it's tax-deductible! Thank you for helping us create quality content, and for helping us bring you a new podcast episode each week!
The Our Hen House theme song is written and sung by the incredible Michael Harren, who is also OHH's Director of Communications! Don't forget to tune into Our Hen House's other two podcasts: The Teaching Jasmin How to Cook Vegan Podcast, and The Animal Law Podcast.