Hi everyone. It's Jasmin Singer in Chef Laura Delhauer's Kitchen for the Teaching Jasmin How to Cook Vegan Podcast! 
Summer's here and the time is right to picnic in the street – or in the park. We show you how to make Sammies, Blondies, and Slaw – oh my! Let's get cooking!
You can follow along with the recipes we made on Episode 8 of the Teaching Jasmin How to Cook Vegan Podcast !

[print_this]
Picnic Sammies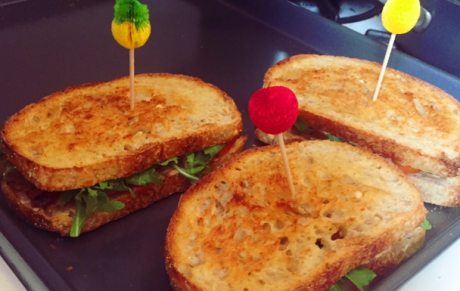 by Chef Laura Delhauer
Ingredients:
Makes 4 sandwiches
A few tablespoons of veggie broth or a splash of canola or safflower oil
1 yellow onion (sliced)
1-2 bell peppers (any color), washed and sliced
8 slices of bread (I prefer sourdough)
1-2 tablespoons vegan butter (we used Miyoko's)
4 tablespoons hummus (any kind)
Fancy toothpicks and/or sandwich baggies for your picnic transporting/serving needs
Directions:
Saute onions in oil or veggie broth until they begin to caramelize
Add bell pepper slices and saute for another few minutes and then remove from heat
Toast and lightly butter each slice of bread. You'll want to butter what will be the inner sides of the bread (i.e., the sides that will be on the inside part of the sandwich, not the parts that your hands will touch).
Spread the inner side of 4 of the pieces of toast with about a tablespoon of hummus
And then pile on the veggies
Cover with the other slice of toast and pin together with toothpick for serving.
You could also tie each sandwich together with a ribbon and place them in individual sandwich or pastry bags to distribute at your picnic.
Enjoy!
[/print_this]
[print_this]
Peanut Slaw
by Chef Laura Delhauer
Pile it on your veggie burger, eat it with your sammie, or just have a giant bowl for dinner. One of Chef Laura's least favorite things in the world is coleslaw. She's also not a huge fan of cabbage. But she found a way to bring peanut butter into the equation and, viola! A new favorite side dish for backyard BBQs or picnics in the park.
4-5 cups thinly sliced cabbage (red, green or a combination of both)
1-2 carrots, peeled and cut into matchstick size pieces
3 tablespoons peanut butter
2 tablespoons warm water
3 tablespoons red wine vinegar (rice vinegar works as well if that's more handy)
2 tablespoons lime juice
1/2 teaspoon of soy sauce (or tamari or coconut aminos, etc.)
1/2 tablespoon of maple syrup or agave nectar (more to taste)
1-2 teaspoons Sriracha or other red hot sauce (optional)
Directions:
Place cut cabbage and carrots in a medium bowl, toss to mix and set aside.
In another bowl, whisk all other ingredients together. Taste and adjust if more sweetness or spiciness is desired.
Pour sauce over cabbage mixture and toss to combine until dressing is evenly distributed.
Stores in fridge for a few days.
[/print_this]
[print_this]
Chickpea and Chocolate Blondies
Gluten free, grain free & oil free
by Chef Laura Delhauer
Ingredients:
1 15oz can chickpeas (drained and rinsed)
1/2 cup all natural peanut butter
1/3 cup pure maple syrup
2 teaspoons vanilla extract
1/2 teaspoon sea salt
1/4 teaspoon baking powder
1/4 teaspoon baking soda
1/3 cup vegan chocolate chips (Chef Laura is a huge fan of Sunspire 65% cacao chips)
Directions:
In a food processor, combine all ingredients EXCEPT chocolate chips and process until smooth. (You can also mash them together in a bowl, if you don't have a food processor, or use a vitamix. If you use a vitamix, I highly recommend doubling the recipe, as smaller amounts of batter and sauces don't always do so well in the vitamix.)
Once batter is smooth, fold in chocolate chips.
Then spread the batter into an 8×8 pan. (You can grease or spray the pan slightly, but the PB should keep it from sticking very much.)
*You can also use a smaller pan, like a loaf pan for thicker blondies, but I would not use a larger one unless you doubled the recipe, as they will be too thin.
Note: the batter will be sticky so you can grease or spray a rubber or silicone spatula to help you smooth the batter into the pan
Bake for 20-25 mins or until toothpick comes out clean in the center.
Allow Blondies to cool for 15-20 mins, if you can control yourself, I know it's difficult. Cut and serve.
[/print_this]
***

You can listen to the Teaching Jasmin How to Cook podcast directly on our website (beneath this paragraph!) or you can listen and subscribe on iTunes! Also, if you like what you hear, please rate it on iTunes, and don't forget to leave us a friendly comment! Of course, we would be thrilled if you would also consider making a donation, or becoming a member of our flock. Any amount is hugely appreciated, and Our Hen House is a 501(c)(3) nonprofit organization, so it's tax-deductible! Don't forget – we're reader and listener supported. Thank you for helping us create quality content, and for helping us keep our media free and accessible!
 The Teaching Jasmin How to Cook Vegan theme song is written and sung by the incredible Michael Harren, also Our Hen House's  Social Media Guy. This podcast would not be possible without the genius of our audio editor, Eric Milano, of Love Loft Studios.
Don't forget to also listen to the signature Our Hen House podcast, as well as OHH's Animal Law Podcast.