78-year-old Ruth E. Heidrich, Ph.D. is "full of zip and vim." That is how Lantern Books founder Martin Rowe described her to us when he told us about her just released book, Lifelong Running: Overcome the 11 Myths About Running and Live a Healthier Life (which Martin co-authored). As we initially thumbed through this book, we found ourselves at times laughing out loud, and at other times taking notes. Martin's observation of Ruth was spot on, but beyond just her zip, she's full of handy information that is accessible for seasoned runners and runner wannabes alike. Plus, Ruth is a vegan — bringing home the message that athletes can truly thrive on a plant-based diet. In fact, a healthy vegan diet is optimal for athletes. 
Here's how the book is described:
A cancer survivor, an Ironman Triathlete, and widely decorated marathoner, Ruth Heidrich has long been been a role model to athletes of all ages. But over the years even Ruth herself has encountered the various, commonly held misbeliefs about running, from "women shouldn't run" to "you need to change your diet to run," that prevent people from lacing up their shoes and getting off the couch. In this user-friendly guide, Ruth Heidrich debunks those myths and many more while providing the motivation, inspiration, and resources to start or maintain an activity whose benefits will last a lifetime. Along the way, Martin Rowe offers up practical advice as well as a look into running's storied history. You'll find out why there's no perfect body type for a runner, how to measure your fitness level relative to your age, and how the modern marathon came to be. Accessible and informative, Lifelong Running shows that it's possible to run well into your seventies — and beyond.
Today, Our Hen House is thrilled to be able to offer you an exclusive glimpse at Lifelong Running. Special thanks to Lantern Books. 


***
From the book Lifelong Running: Overcome the 11 Myths About Running and Live a Healthier Life (Lantern Books, September 2013)
by Ruth E. Heidrich, Ph.D. with Martin Rowe 
The following excerpt is from "Myth #5 — You Need to Change Your Diet to Run"
What I Thought I Knew About Nutrition
After completing my first college nutrition course way back in 1952, I thought I knew what a healthy diet was: lots of protein in the form of animal foods and lots of calcium from dairy products. The professor told us that everybody needed to drink lots of milk to have strong bones. Little did I know then that so-called "lactose intolerance" was your body's way to tell you it was time to get yourself weaned!
I followed those nutritional guidelines until my cancer diagnosis in 1982. In fact, I held on to that Diet and Disease textbook for years, referring to it frequently, thinking it would ensure that I was getting all the essential nutrients. That was the situation when, after just having my cancer surgery, I saw a notice in the local newspaper that read, "Wanted: Women with breast cancer to participate in diet research study." I bolted to the phone because this was exactly where I was mentally – desperate to talk to anybody who knew anything about cancer and, especially, was conducting research in that field. Both my surgeon and oncologist told me they didn't know why I had gotten breast cancer – indeed, that nobody knows why we get cancer. Here, I thought, was a chance to find out how this could have happened to me, especially given my background in nutrition and having been a daily runner for fourteen years. I was sure I was eating the best diet possible and, having run several marathons, I knew I was pretty fit.
The researcher conducting that study was Dr. John McDougall, who at the time was practicing medicine in Hawaii. Dr. McDougall had noticed through an analysis of Hawaii's multicultural population, that different ethnic groups and age-groups had different incidence rates for certain chronic diseases. He'd been a plantation doctor on the Big Island and had observed three generations of Japanese, Filipino, and Caucasians. The chronic diseases included heart disease, cancer, strokes, high blood pressure, diabetes, and obesity. The old Japanese and Filipino men were healthy, strong, lean, and in some cases fathering children into old age. The middle generation was less healthy. The third generation, however, was obese, diabetic, hypertensive, and, in general, not healthy at all. Dr. McDougall figured out that diet had a lot to do with the degeneration of their health and set out to prove it, starting with the clinical research study on breast cancer.
In response to the ad, I was told to gather my medical records and meet Dr. McDougall in his office the next day. As he looked over my lab tests, he frowned and said, "You know, with a cholesterol reading of 236, you're at as high a risk of dying of a heart attack as the breast cancer." I was doubly stunned! First the breast cancer, and now Dr. McDougall was saying I could die of a heart attack? He hastened to reassure me that by changing my diet I would beat both of these: "If you want to save your life, change your diet!"
Despite my having had surgery in which the surgeon attempted to cut out all the cancer, there were no clear margins. The cancer had already spread throughout the breast. There were also signs that it was in my bones, liver, and one lung as well. So I was desperately afraid it was too late. Dr. McDougall assured me that that was not the case. He said that if I enrolled in his study, I couldn't have any chemotherapy or radiation because he needed to show that it was the diet alone – not chemo or radiation – that reversed the cancer and saved my life. This meant that the diet would be the only variable, and therefore strong evidence that this cancer was diet-related. This was really good news to me, not only because I would have done anything to save my life, but because I'd be able to avoid chemo and radiation.
The diet I was to follow consisted of fruits, vegetables, legumes, and whole grains. I already loved brown rice and oatmeal, so that part was easy. I took Dr. McDougall's cooking class and learned how to make a wide variety of delicious foods, all based on whole plant foods, and to skip all oils, even olive oil. The basic idea was to take ethnic dishes and keep them healthy. For example, chili con carne without the meat, spaghetti without the meatballs, and stir-frys with lots of different veggies sautéed in water or veggie broth. The options are almost endless, all very healthy, but, most importantly, delicious!
The simplest and most basic eating plan I adopted, however, was to eat just whole, unrefined, unprocessed plant foods, especially many different varieties of fruit and veggies. As I like to say, "Just wash 'em and eat 'em!" There was an almost infinite variety of dishes that could be made following these simple guidelines, and thus my new diet was launched.
One relatively unique aspect of my diet was an emphasis on leafy greens, which I even included in my breakfast. While studying nutrition, I learned which foods had the highest vitamin, mineral, and antioxidant levels, and were therefore the healthiest. Leafy greens are right at the top, so it made a lot of sense to me to get them into my body as early in the day as possible – and not in the form of a small dinner salad as so many people do.
As I recovered from the cancer surgery and increased my training, I would tuck bananas, apples, orange slices, raisins, or brown rice balls into my waist pack to eat on the run or on long bike rides. I sometimes made my own healthier version of trail mix using only raisins, dates, and other dried fruit such as bananas, mangoes, and papayas. When traveling, I'd carry plain baked potatoes and eat them as you would an apple. Sweet potatoes and yams also made for good, healthy, and very portable food. Water was my only beverage and was my first choice at race aid stations.
Because I was so frequently asked about my diet – questions like "What's wrong with fish?" and "What do you put on oatmeal if not milk?" – I decided to assemble basic nutrition facts along with a bunch of recipes that were so simple that even I was willing to make them. Because of my training schedule, I wanted to spend as little time in the kitchen as possible – minimum meal preparation and with practically no cleaning up after. I found that eating most foods raw was the ultimate in simplicity, and I wasn't the only one who agreed. I published these facts and recipes in my own cookbook, CHEF, an acronym that stands for Cheap, Healthy, Easy, and Fat-free (available through my website, www.ruthheidrich.com).
… By the way, remember the heart attack that Dr. McDougall mentioned I was at risk of dying from because of my high cholesterol reading of 236? After fewer than three weeks on my new diet, my cholesterol had dropped down to 160 and the next test reading a few months later showed it was 129. It continues to run at that very healthy level, along with healthy readings in all other tests.
***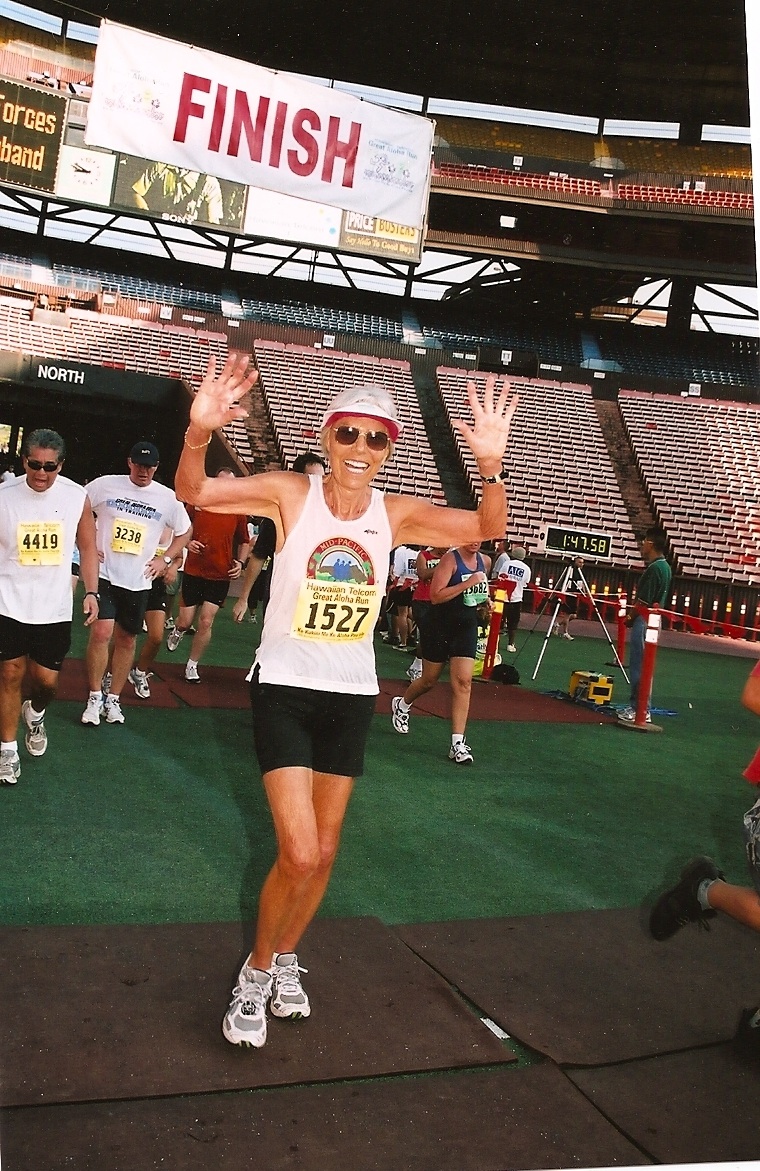 Lifelong Running: Overcome the 11 Myths About Running and Live a Healthier Life is available on Lantern Books, as well as on Amazon — in both paperback form and as an e-book. The e-book edition is also available on Amazon, and will soon be available on Barnes and Noble, Kobo, ebooks.com, and iTunes.
Author Ruth Heidrich received her Ph.D. in Health Management in 1993 and is also the author of A Race For Life, The Race For Life Cookbook, and Senior Fitness. She is a certified fitness trainer and holds three world records for fitness for her age group at the renowned Cooper Clinic in Dallas, Texas. She still actively competes in marathons and triathlons, having won more than 900 trophies and medals since her diagnosis of breast cancer in 1982 at the age of 47. With Terry Shintani, M.D., she co-hosts the radio show "Nutrition & You" on KWAI-AM in Hawaii. She is the founding member and past president of the Vegetarian Society of Hawaii and past president of the Mid-Pacific Road Runners Club. She has won eight gold medals in the Senior Olympics in Hawaii, Arizona, and Nevada.