Dear Flock,
The holiday season certainly hasn't entered the forefront of most of our minds yet – in fact, many of us probably seek to shove it way back into the crevices of our craniums. However, when it comes to animal advocacy, those of us who find ourselves with the resources to give gifts to our not-yet-vegan friends and family needn't feel compelled to wait until the holidays, for any and all times of year are ideal for activism! That's why, as we find ourselves at the mid-summer mark, I'd like to share with you my list of five fantastically fabulous non-holiday-related gifts for encouraging not-yet-vegans to move toward a more conscious lifestyle. #PRIVATE#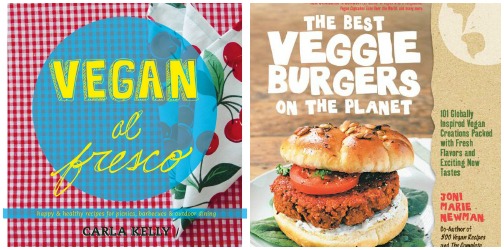 1.) Summery Vegan Cookbooks – what better way to introduce the wonders of veganism than with mouthwatering animal-free dishes? The recipes on the pages of summery vegan cookbooks like Vegan al Fresco by Carla Kelly and The Best Veggie Burgers on the Planet by Joni Marie Newman will surely tantalize anyone's tastebuds. With a grill eager to fire up some veggie burgers and a picnic blanket ready for laying out, your not-yet-vegan loved ones are in for one tasty late summer.
2.) Non-Dairy Ice Cream – I don't know about you all, but I've kept my freezer well-stocked with plenty of non-dairy deliciousness throughout this summer. Some of my favorites include So Delicious' Coconut Milk Green Tea, Coconut Bliss' Lunaberry Swirl, and DF Mavens' New Orleans Salted Praline. Just as these ice creams delighted and impressed my not-yet-vegan friends back in June, they'll definitely achieve similar results for you in July and August.

3.) Vegan Sunscreen – though adequate sun exposure ensures a hearty dose of that ever-important Vitamin D, getting enough sun smartly means protecting our skin from harmful UV rays with sunscreen. However, due to copious use of chemicals and animal testing, not all sunscreens are created equal. Help your friends and family make animal-friendly, environmentally conscious, and healthful sunscreen choices with these guides from VegNews, Vegan Beauty Review, One Green Planet, and The Vegan Woman.
4.) A Trip to an Animal Sanctuary – with goats frolicking in meadows, cows grazing on green grass, and ducks splashing in ponds, summer provides an ideal time of year to visit an animal sanctuary. Interacting with non-human animals once destined for a short life of torture who now enjoy loving and fruitful existences can be a hugely powerful experience, one that I guarantee will have a lasting impact on any not-yet-vegans in your life. You can find a sanctuary near you at this website.
5.) Info on How to Go Vegan – with the four above gifts, you've given your loved ones the "why" of going vegan, from fabulous food to cruelty-free body care to respecting the lives of our non-human companions. At this point in your gift-giving (how generous of you!), your friends and family have probably asked you about the "how" of going vegan. Luckily, there are tons of resources available with this info, from books to websites.
Even more luckily, one of you lucky flock members will have the chance to win a copy of one such "how to go vegan?" resource to
give to a not-yet-vegan in your life! It's Easy to Start Eating Vegan by Rebecca Gilbert of Yummy Plants is a step-by-step beginner's guide to help people easily switch to a vegan diet, complete with a sample meal plan and recipes, and even endorsed by Dr. Neal D. Barnard. A magnificent gift for any vegan to give and any not-yet-vegan to receive.
To enter, simply leave a comment on this post by Midnight EST on Friday, Aug. 1, and we'll randomly choose a winner on Saturday, Aug. 2! This is only open to flock members, and you can only enter once.
And, just because we love and appreciate you flock members oh so very much, enjoy this recipe from It's Easy to Start Eating Vegan for a summery salad, ideal for sharing at picnics and park potlucks.
[print_this]
"No Chicken Salad"
from It's Easy to Start Eating Vegan by Rebecca Gilbert
Prep Time=5 minutes, cook time=3 minutes.
Serves 4.
No Chicken Salad makes an excellent portable meal. It's a delicious filling for pita pockets and lunch box sandwiches. It also works well as a salad topping.
1 1/2 cups diced celery
1 1/2 cups chopped apple
1 cup vegan mayonnaise
Pinch of salt
1/2 tsp pepper
2 tablespoons lemon juice
3 cups cooked vegan chicken, chopped (Beyond Meat, lightly seasoned flavor, works well)
Chopped parsley for garnish
In a large bowl, toss chicken with diced celery, apples, and mayonnaise. Mix well.
Add lemon juice, salt and pepper to taste. Garnish with parsley.
Make pita sandwiches or plate individually on a bed of mixed greens with tomatoes. [/print_this]
Be sure to check out Rebecca's book It's Easy to Start Eating Vegan and to enter the giveaway to win a copy!