Dear Flock,
Almost exactly three months ago today, I officially began my internship with Our Hen House. Since that date in late May, I've had the immense pleasure of coordinating OHH social media, giving numerous podcast reviews, organizing #ThrowbackThursday posts, creating a very exciting new page on the OHH website that will soon launch, and more (including taking an injured robin to the Wild Bird Fund!).
My relationship with Our Hen House, however, began long before early summer 2014. Though I went vegan in June 2010, I didn't begin to identify as an animal activist until embedding myself into the online community of vegan bloggers and nonprofit organizations, and more wholly informing myself about the horrors we humans inflict upon our nonhuman fellows. One of the first bloggers with whom I felt most connected you all know from the ever-insightful blog (and now cookbook!) Choosing Raw, and when Gena Hamshaw invited her readers to check out her segment on Episode 114 of the OHH podcast, I had my introduction to the two powerhouse women behind Our Hen House: Jasmin and Mariann, of course.
The summer after that episode aired, I became a serial listener of the OHH podcast. The words of Jasmin, Mariann, and a cornucopia of inspiring activists streamed constantly through my iPod earbuds, accompanying me as a I tended my family's plot in my hometown's community vegetable garden and worked out on the elliptical machine in my basement. By early September 2012, I had laughed and learned my way through episodes one through 138, from Stewart David to Ginny Messina and everyone in between.
My podcast listenership endured during my transition from high school in the Midwest to college in upstate New York that autumn, providing me with a sense of familiarity every Saturday amid the whirlwind of my first year of undergrad. That March, I took the opportunity to match faces and real human persons with the voices and personalities I knew well, attending the NYC reading of Defiant Daughters at Bluestockings Bookstore and actually meeting Jasmin and Mariann in person. I had my photo taken with Jasmin. I even sat next to Mariann during the reading and made her listen to me talk about my campus animal activist group. I was majorly fangirling.
Fast-forward to the beginning of my sophomore year in the fall of 2013 and I found myself with a meaningful personal narrative and nowhere to publish it…that is, until I remembered Our Hen House's online magazine. In a hesitant email bursting with hedging comments like "If you'd be at all interested…" and "I know you're incredibly busy…," I pitched my piece to Jasmin and Mariann. Four weeks later, I had my first Our Hen House article published, sharing the story of my eating disorder recovery through veganism with the world.
After penning a few reviews for OHH, Jasmin and Mariann asked me to officially join the Coop as a Contributing Writer. As Jasmin so often says, I plotzed. OHH had served as my go-to source of animal activism for nearly two years at that point, and now I would offer my passion for writing to that very source? Be still my beating heart. Soon after, Jasmin and Mariann inquired about my interest in coordinating the initial publicity for their newly launched eBook publishing arm Hen Press and its first publication The Lines We Draw. How could I decline? My involvement with the OHH team increased (though less so than my excitement), and I felt compelled to thank Jasmin and Mariann for the bevy of opportunities they bestowed upon me by inviting them to speak at my college as a Vassar Animal Rights Coalition (VARC) event, complete with homemade tempeh tacos for all.
Perpetually thrilled by my work with Our Hen House and seeking endeavors for summer 2014, I stared agape at an email I received from Jasmin early that spring: "You should think about interning for us this summer." Um, one-thousand times yes, no questions asked, absolutely? The rest, folks, is herstory, including the chapter where I continue working remotely for Our Hen House throughout the fall semester of my junior year! They haven't gotten rid of me yet.
From the arc of my involvement with OHH, I can draw out a few pieces of advice for burgeoning animal activists: identify your strengths – what you can offer to the movement to end animal exploitation – and start making connections with existing individuals and groups relevant to that strength. Building community with other activists proves not only essential in preventing activist burnout, but also in opening up new opportunities for activism (and maybe even employment!).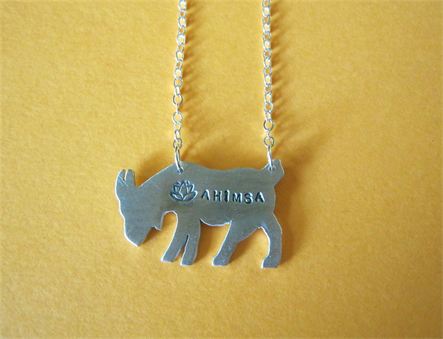 To commemorate the end of my internship and beginning of my more formal employment with Our Hen House, I'm incredibly pleased to offer, to the flock only, a giveaway of an item quite near to my heart (both literally and figuratively). Every day, I wear my silver goat-shaped necklace emblazoned with the word ahimsa – "nonviolence" in Sanskrit – made by vegan jewelry artist Christy Robinson, as a testament to my commitment to the animal rights struggle. Christy has generously donated the very same necklace to one lucky Flock Member so that you can wear your values while at the same time being matchies with me (living the dream, right?). #PRIVATE#
To enter the giveaway, simply email alessandra [at] ourhenhouse [dot] org by Midnight EST on Thursday, September 4, with your full name and address. Please make the subject line "Intern Giveaway." The first Flock member to write in will get Christy Robinson's Ahimsa Goat necklace!  This is only open to flock members, and you can only enter once.
In solidarity,
Alessandra Seiter
Media Coordinator